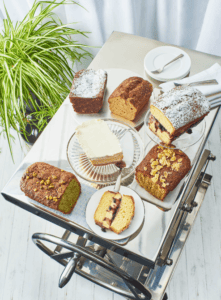 Cakes
A party without cake is just a meeting. A party with our cakes is an extravaganza. Whatever your taste, there's something for everyone. We even have some mixes for you to bake at home.
Our stunning selection of gourmet cakes really is a treat for the senses. From a traditional Victoria sponge to a tangy yet sweet lemon & pistachio cake, our artisan cakes are utterly indulgent. They're also all prepared and packaged by hand by our team of industry experts, so you can be confident you'll be receiving gourmet cakes made from only the freshest ingredients.
Looking to get mouths watering and tummies rumbling? Our bake-at-home cakes include everything you need to bake a perfect banana bread or chocolate brownie at home. Simply pre-heat your oven, pour in the cake mix, bake, and enjoy! This also means you'll get the irresistible aroma of freshly baked cakes wafting through your home, an instant crowd-pleaser!