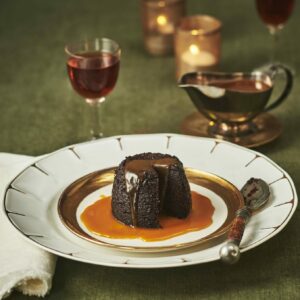 Puddings
Where to start? Rum Baba. Or maybe the Valrhona Chocolate with Salted Caramel. No, make it the Bread & Butter Pudding. Don't say we don't spoil you. The proof is in the pudding.
At Forman & Field, our decadent range of luxury puddings make for the perfect dinner party dessert. From traditional bread & butter pudding to our indulgent Valrhona chocolate & salted caramel pots, in our selection of gourmet puddings, there truly is something for all the family.
Looking for an irresistible treat that's sure to 'wow' your guests? Our homemade jaffa cake pots feature classic sponge topped with orange jelly and chocolate mousse with a mirror finish. This delicious sweet treat really is a jaffa cake in a jar! What's more, all of our luxury puddings are hand-prepared and packaged by our team of experts before being shipped via overnight courier directly to your door to guarantee optimal freshness and quality.