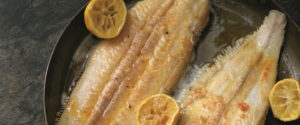 The Fishmonger
Fish is good for us. Easy to cook, easy to digest, protein rich, full of fatty acids. But unless it's fresh, forget about it. That's where you can count on our expertise.
Caviar is often regarded as one of the world's finest foods; at Forman & Field, we appreciate that this luxury food is a delicacy its own right. That's why we ensure all our caviar is responsibly and ethically sourced, allowing us to preserve its natural and distinct flavour. 
If you're looking to buy caviar online, it's important to ensure its quality to allow for the highest quality tasting experience. We guarantee that we only ever provide the finest selection, meaning you can be confident that your caviar delivery will be flavoursome and decadent. Our range is perfect for adding a luxurious touch to dinner parties or date nights. No matter what the occasion is, however, you can rely on us to deliver only the freshest ingredients and meals.