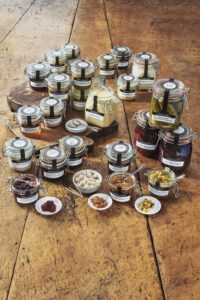 Chutneys & Preserves
Our homemade chutneys and preserves are totally natural. Not one artificial preservative in sight.
If you're looking for the perfect accompaniment to whatever you're cooking, our range of artisan jam and chutney is the ideal selection. Each jar is bursting with flavour and deliciousness; they're also made with the absolute finest ingredients so you can be sure you're serving your family the very best.
Looking for something extra special? Our Radnor Campfire Marmalade won gold at the 2017 World Marmalade Awards and makes for an ideal combination with blue cheeses and barbequed foods due to its tasty kick of chilli. What's more, all of our artisan jam and chutney is hand-packaged by our team of experts before being delivered fresh and direct to your door. Browse our range of artisan chutney to create your perfect food pairing today!