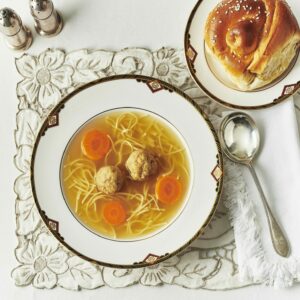 Soups
Mrs Forman's Chicken Soup is no less worthy of protected status than the smoked salmon produced by her husband over 100 years ago. Great recipes never change.
Our selection of gourmet soups are the ideal choice for a luxurious dinner party and are sure to impress your guests. Made with the finest and freshest ingredients, these fine dining soups are a perfect appetiser for any meal.
Looking for a delectable canapé that's so easy to serve? Our Lobster Bisque features lobster shells that are roasted off to intensify the flavour then flambéed in cognac to add a gentle kick. Alternatively, our Gazpacho is made with the best of British heritage tomatoes as well as a few ciabatta crumbs for body. The result is a cool, refreshing soup that makes a delicious starter or light meal.