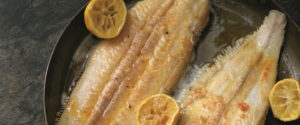 The Fishmonger
Fish is good for us. Easy to cook, easy to digest, protein rich, full of fatty acids. But unless it's fresh, forget about it. That's where you can count on our expertise.
Knowing where to look and what to buy when it comes to fresh fish can seem daunting. Luckily, at Forman & Field, we only provide the most superb fresh fish. From tuna to seabass, to lobster and more, you can count on our team of experts to bring you the finest in gourmet food.
Looking for something a little more special? Our BBQ fish bundle is perfect for those summer months in the sunshine (or rain, we are in Britain after all!), packed full of our favourite fish and seafood dishes. Whatever the weather, however, our fresh fish is ideal for those wanting a mouth-watering seafood-based meal. At Forman & Field, we use overnight couriers and package all of our meals by hand, ensuring your food arrives in tip-top condition, every time.