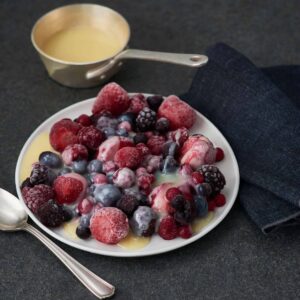 Sauces & Accompaniments
Naughty but nice. Need we say more.
Sauces & Accompaniments For Your Desserts
Our selection of dessert sauces and toppings are the perfect accompaniment to your sweet treat. They're specially designed to complement existing flavours and add an extra tasty element to your desserts, guaranteed to impress your guests.
Our salted caramel sauce, a Forman's favourite, is made with smoked sea salt and is ideal for drizzling over cakes, puddings, and even hot drinks for that added sweetness. Or why not step up the indulgence with our decadent rum-infused white chocolate sauce? Pair it with frozen berries or as an ice cream topping, for a sense of luxury with every bite. If you're looking for a range of scrumptious dessert toppings and sauces that's bound to send mouths watering at the dining table, Forman & Field have you covered.