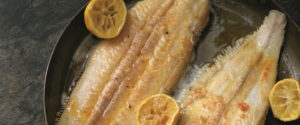 The Fishmonger
Fish is good for us. Easy to cook, easy to digest, protein rich, full of fatty acids. But unless it's fresh, forget about it. That's where you can count on our expertise.
Filters
Showing 1–12 of 111 results
When you're looking to buy fish online, knowing where to look and what to buy can be tricky. Luckily, at Forman & Field, we only provide the highest quality fresh fish. From salmon to lobster, to kippers and more, you can rely on our expertise to bring you the very best in luxury food.
If it's gourmet fish-based meals you're looking for, we provide a range of products that have been carefully prepared by our specialist chefs, such as our smoked salmon paupiettes with crab and lobster, making mealtimes even easier.
Buying fresh fish online doesn't need to be daunting. Sit back, unwind, and let Forman & Field deliver your luxury order to your door.