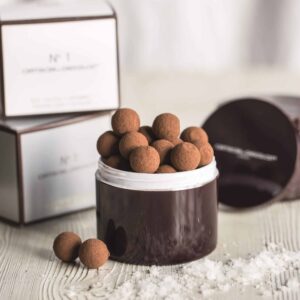 Chocolate & Confectionery
Time to adjourn to the drawing room to serve sweet somethings.
Our indulgent range of artisan chocolate is the perfect after-dinner treat (or anytime treat if you ask us!) – beautifully curated using only the finest ingredients by our in-house chefs, our gourmet chocolate also makes the perfect gift for the chocolate lover in your life!
Our artisan du chocolat salted caramels, for example, are a cult favourite for a good reason! The salty, liquid caramel centre bursts in your mouth, providing a scrumptious experience for the senses. Looking for that next-level luxury gift? Our artisan du chocolat voyage de chocolats is a miniature trunk of deliciousness, taking you on a voyage of chocolate discovery with shimmering pearls, salted caramels, signature O's, classic truffles, coated fruits, and exotically scented ganache; utterly divine.