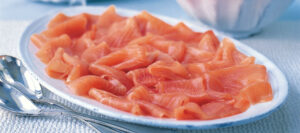 Smoked Salmon
Our London Cure Smoked Salmon has been made the same way since 1905. The finest salmon, rock salt, a little oak smoke. Oh, and a lot of love. There's nothing quite like it.
Our Wild Smoked Salmon is hand-smoked and delivered straight to your door, making it a fabulous treat for a special occasion. What's more, we only ever use the finest salmon in our dishes, meaning you can be confident you'll be serving food of the absolute highest quality.
Looking for a taste of true luxury? Our Smoked Wild Salmon Pâté is made with top-grade wild salmon caught by experienced netsmen in the summer salmon season. We then freeze the best fish so we can produce this delicacy all year round. Forman and Field are the only suppliers of Wild River Tweet Salmon in the world and also supply the fantastic Wild Alaskan Smoked Salmon where we only smoke the 'King' Salmon as it resembles the Scottish.