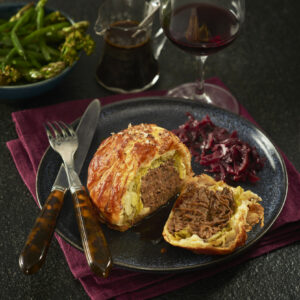 Beef
Our Aberdeen Angus Beef is slow. Very slow. It takes 32 days to age. It's the best beef we've ever tasted. Which is why we use it in our Beef Wellingtons and our Beef Bourgignon and everything in between.
Our selection of mouth-watering gourmet steak meals are perfect for all occasions. From 45-day aged ribeye steaks, to our gourmet beef wellington meal, we really do have something for everyone. All of our dishes are lovingly hand-prepared and packaged by our team; their knowledge and expertise of Britain's finest foods combined with ensuring all our gourmet steak is ethically sourced, makes for a truly delectable experience.
Looking for the perfect canapé for an upcoming dinner party or event? Our steak & chips skewers are sure to delight your guests (and their tastebuds!). Dry-aged Aberdeen Angus steak skewered with cubed chips and accompanied by a delicious béarnaise sauce, no one would ever guess just how quick and easy these are to prepare!