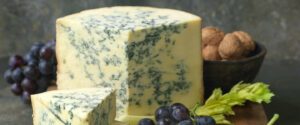 The Dairy
British cheeses are the best in the world. There. We said it.
They're fresher, more flavoursome and more fun. End of.
For blue cheese that's bound to impress at the dining table, look no further than our delicious range. All of our artisan blue cheese is lovingly prepared and hand-packaged by our team of experts before being shipped overnight directly to your door, meaning you can be sure your blue cheese delivery is of the finest quality and freshness.
Looking for a buttery blue cheese that melts in the mouth? Our Isle of Wight Blue won Best English Cheese at the World Cheese Awards in 2019. If you're looking for a delightful selection of artisan blue cheese that's sure to leave your guests wanting more, our luxury range has everything you could want!