There's no better way to start the day than smoked salmon for breakfast. Not only is smoked salmon naturally protein rich, meaning it'll keep you fuller for longer, but it's also packed with healthy fats and nutrients that are known to improve cognitive function, prevent heart disease, reduce inflammation and promote healthy skin and hair. Some doctors, such as Dr. Perricone, even hail smoked salmon as one of nature's greatest superfoods. Just 85g provides up to 97% of your daily vitamin D, making it especially good for cloudy days. And the best part? You can prepare any of these delicious breakfast recipes in minutes.
Smoked Salmon & Cream Cheese Bagel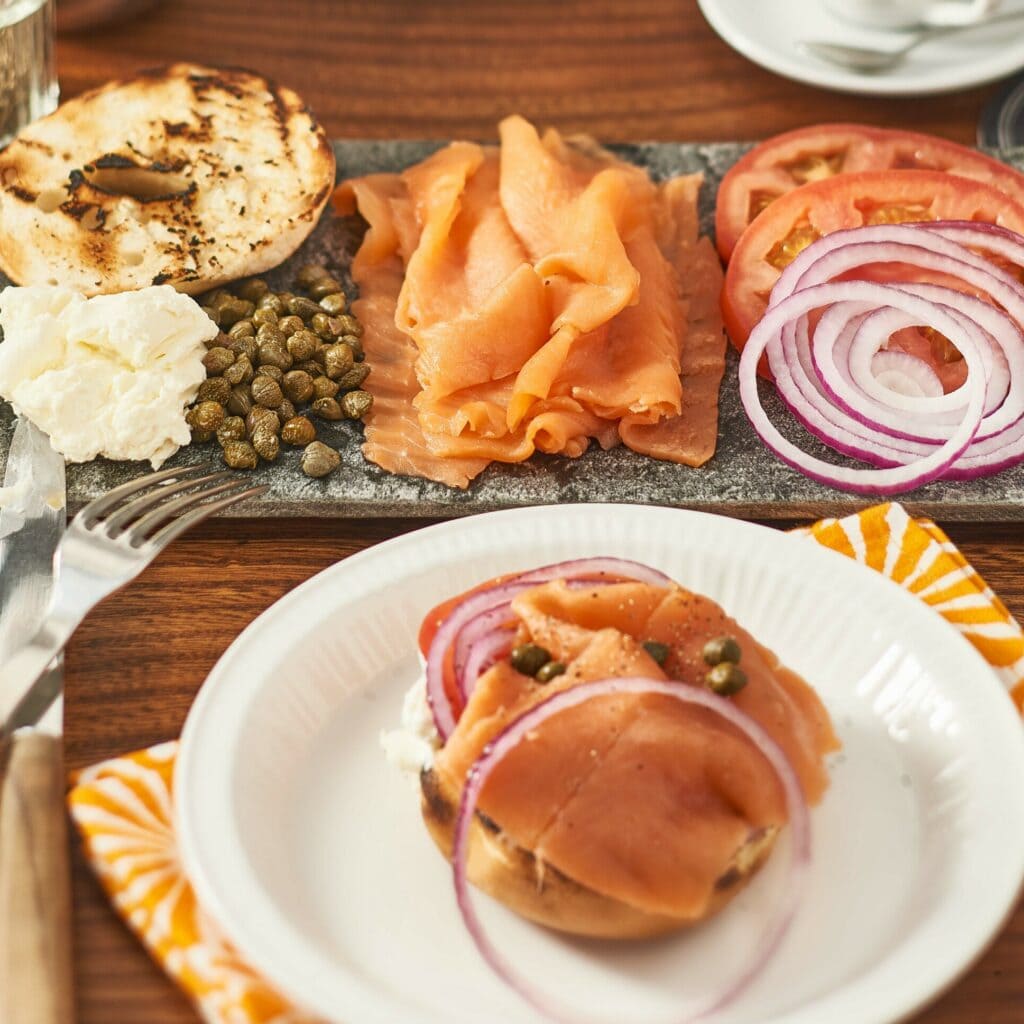 This classic combination of smoked salmon and cream cheese inside a chewy bagel is one of the most popular ways to serve smoked salmon for breakfast, and it couldn't be easier to prepare. All you need is a fresh bagel, which you can lightly toast after slicing if you wish, spread with lashings of good quality cream cheese and the finest smoked salmon you can get your hands on. For a truly authentic American style bagel, go for Wild Alaskan Smoked Salmon. The texture is creamier than our traditional London Cure, and closer to the "lox" you'd typically find across the pond.
You can buy fresh Brick Lane bagels online here or, if you're feeling lazy, you can order them ready prepared for you too. Now that's what we call a 'grab-and-go' breakfast!
Tip: Try adding different garnishes to take your smoked salmon and cream cheese bagel to the next level, such as:

Thinly sliced red onion
Cracked black pepper
A sprinkling of capers
Slices of tomato
Chopped fresh chives
A squeeze of lemon juice
Avocado Toast with Smoked Salmon and Scrambled Eggs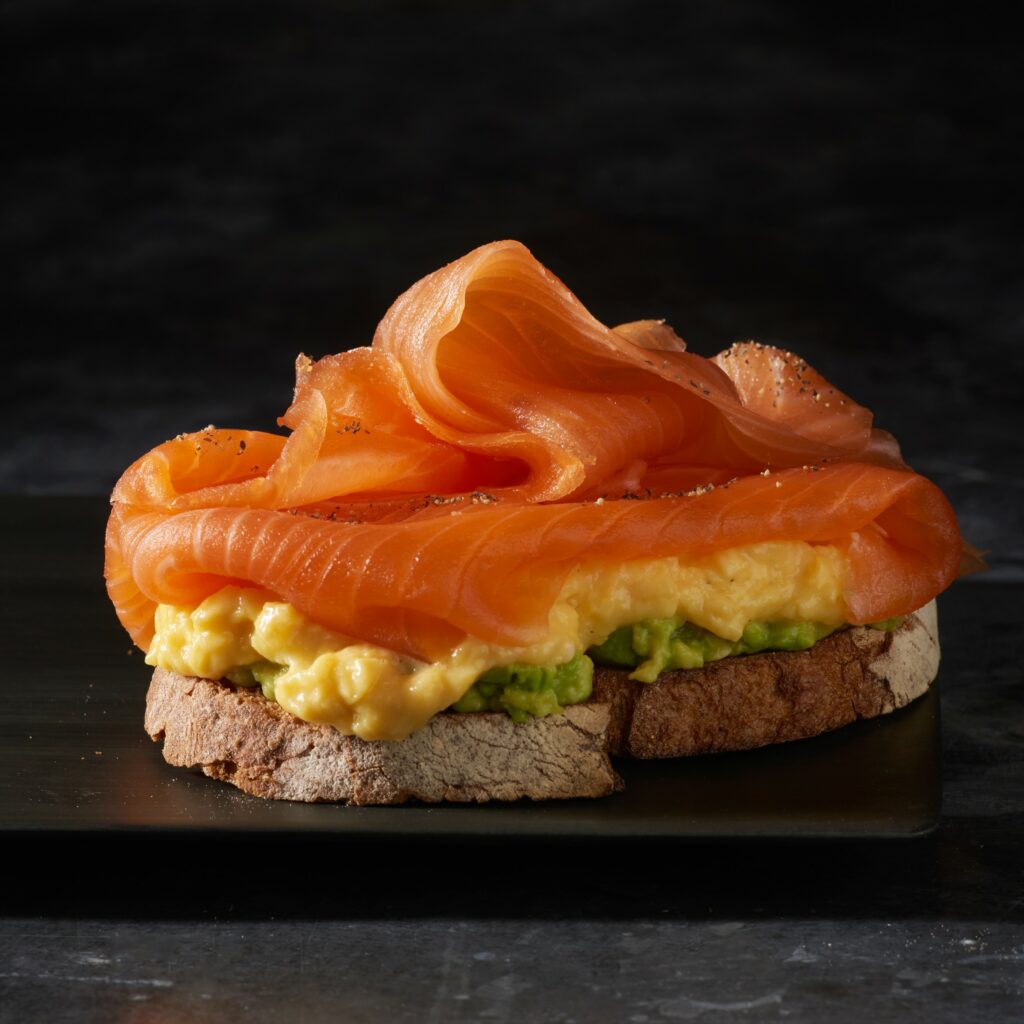 Smashed avocado on toast (better known as "avo-toast" to anyone under the age of 35) is a millennial breakfast staple. A quick Instagram search of #avocadotoast will yield over 2 million photos of beautiful brunch plates, with avocados artistically fashioned into roses, set atop artisan sourdough and garnished with edible flowers. In many ways, they're too pretty to eat!
If this all sounds a bit complicated for you, don't worry. Avocado toast is actually one of the easiest and quickest breakfasts around. Plus, avocados are packed with healthy fats and nutrients, which are fantastic for your hair, skin, nails and (most importantly) your heart.
For the perfect avocado toast, begin by toasting your bread – sourdough or rye work particularly well. Whilst that's toasting, smash your avocado in a bowl with a little fresh lemon juice, salt and pepper. If you like a little heat, you can add some chilli flakes too. Meanwhile, cook your scrambled eggs to your liking, then it's time to assemble. Spread the avocado evenly on top of your toast, followed by the eggs and, finally, delicate slices of smoked salmon. Take a quick snap for "the gram" before eating (how else will all of your fans know what you've had for breakfast?!) then tuck in and enjoy!
Latkes with Smoked Salmon, Sour Cream and Keta Caviar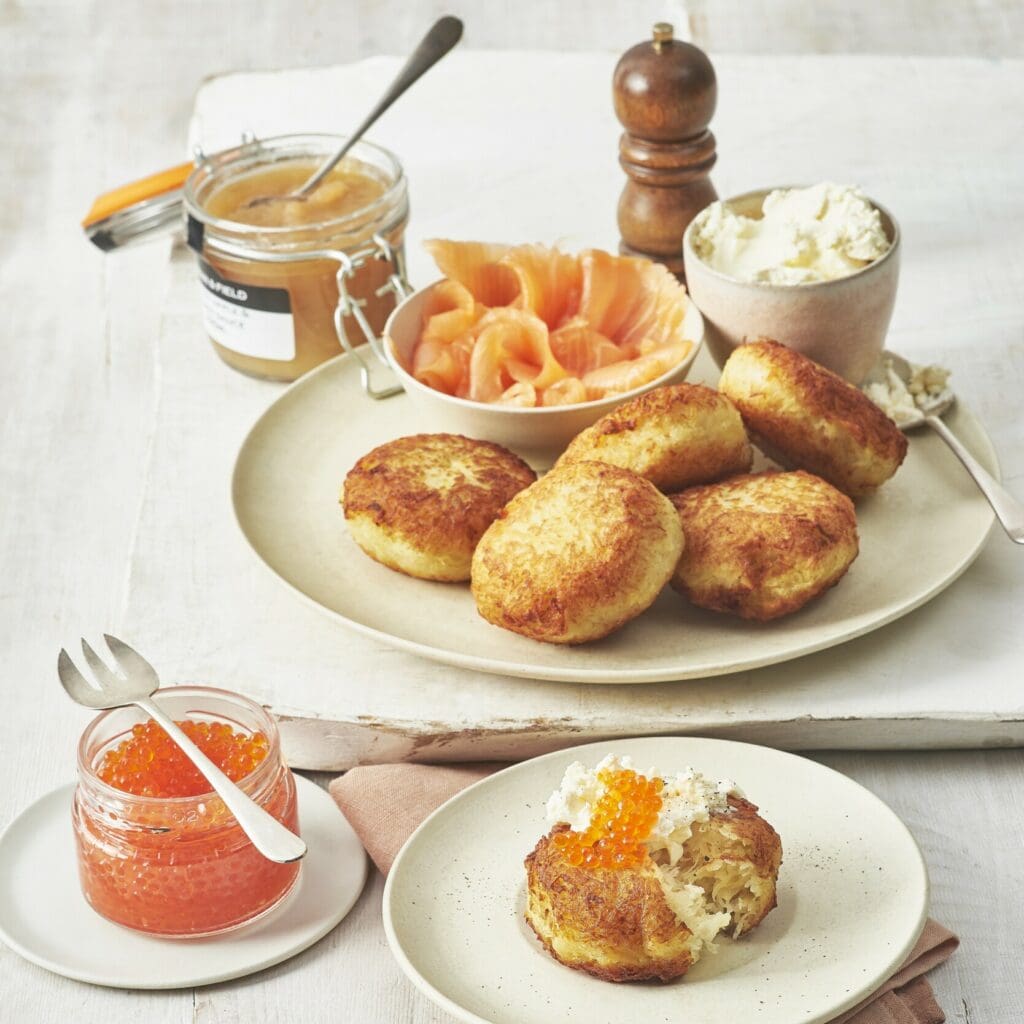 If you're bored of serving plain old toast with your smoked salmon, then why not substitute your bread for a latke? A latke is essentially a fried potato and onion pancake, similar to a hash brown. Traditionally, Jews eat them at Chanukah, but in reality they're enjoyed all year round alongside salt beef and new green cucumbers.
With a little patience (and a lot of elbow grease) you can make latkes quite easily at home, following this recipe. Or, if you prefer, you can buy latkes online here – freshly made by Forman's chefs using a generations' old family recipe. Warm them through in the oven, then serve with smoked salmon, sour cream and a touch of keta caviar for that extra hint of luxury.
Eggs Royale – English Muffins with Smoked Salmon, Poached Eggs and Hollandaise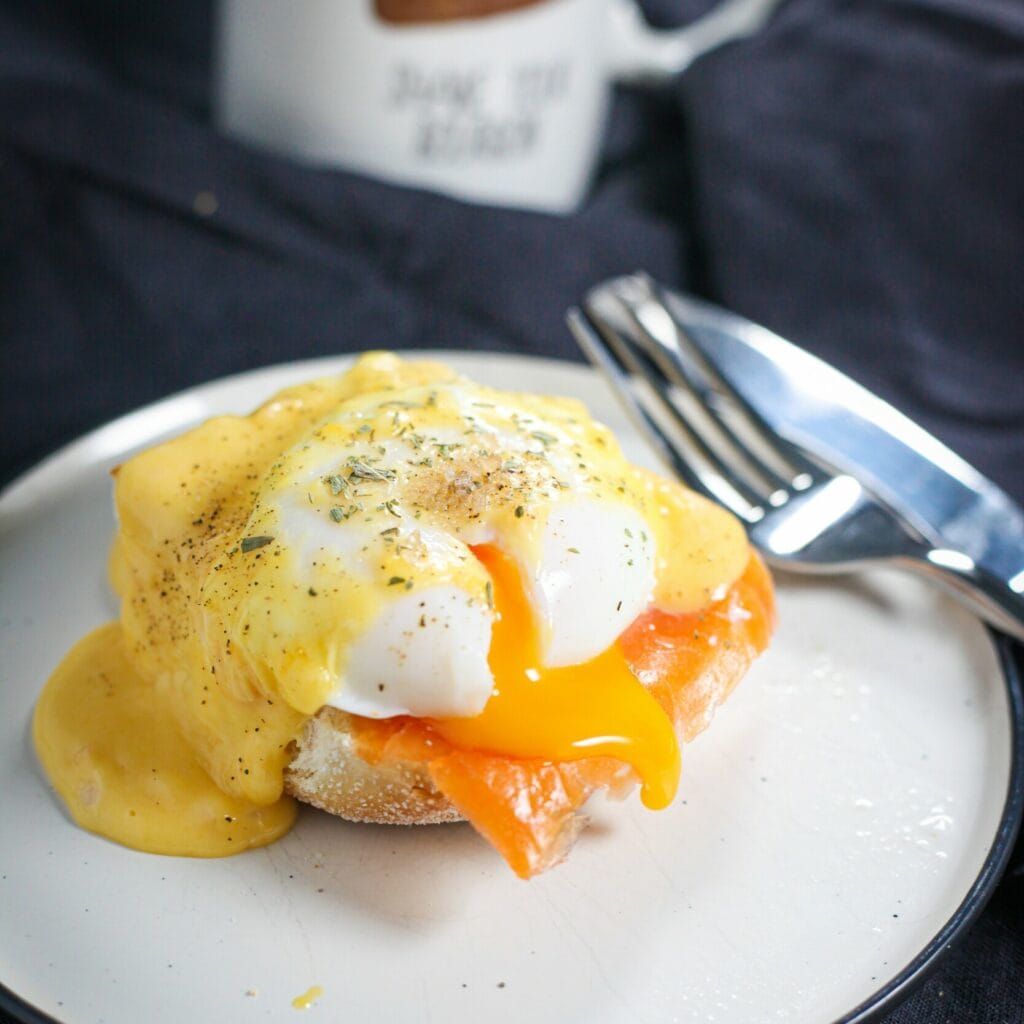 Eggs Royale is essentially the pescatarian version of Eggs Benedict – and we actually think it's even better than the original! The perfect Eggs Royal depends on three elements: a perfectly poached egg with a lusciously runny yolk; a rich, creamy hollandaise sauce; and, of course, the best quality smoked salmon you can find.
Hollandaise sauce can be tricky to prepare, but, if you follow this recipe step-by-step, you should be able to whip it up in no time. Take your smoked salmon out the fridge ahead of time so that it's not fridge cold, and slice your English muffin so that it's ready to toast as soon as you drop your eggs in the water.
To make the poached eggs, you'll need to use the freshest eggs possible. Old eggs won't work here as the whites will be too watery to firm up. Bring a pot of water to the boil then, once boiling, reduce to a simmer and add 1tsp of white vinegar. Crack an egg into a small bowl, then tip into the water – or if you're feeling brave you can crack them straight into the pot. Cook for 2-3 minutes, until the egg white has set but the yolk is still runny, then remove with a strainer and set aside on some kitchen towel.
To serve, butter your toasted English muffin and top each half with a generous portion of London Cure Smoked Salmon. Place one poached egg on each muffin half, then pour over the hollandaise. Finish with some chopped chives and cracked black pepper, and you've got a brunch plate worthy of the fanciest restaurant in town.
Scrambled Eggs with Smoked Salmon Jerky
If you love the combination of crispy smoked bacon and fluffy scrambled eggs, you'll adore this. Smoked salmon jerky is essentially just salmon that's been smoked twice and air-dried to remove all of the moisture. The flavour is much more salty and smoky than smoked salmon, and the texture is crisp and chewy.
We love crumbling smoked salmon jerky over scrambled eggs for an instant flavour hit, and it's also a fantastic way to add omega 3s and essential fatty acids to your breakfast.
So there you have it: five delicious ways to enjoy smoked salmon for breakfast. Which one is your favourite? We hope you'll give them a try – and if you do, be sure to tag us @formanandfield in your photos!