Retro Foods are Making a Comeback: A Guide to the Classics
We saw an article in The Times the other day about how the youth of today are helping create a caviar revival, where new "hipster" restaurants are putting a modern and youthful twist on a very classic caviar penchant. It was a wonderful read, learning that some of our very favourite retro restaurant dishes are having a well deserved re-birth. Though the truth is, for us at least, they never left to begin with.
Here at Forman & Field we've always been massive advocates of restaurant classics, with many of our chefs having trained with the best of the best, like the Roux Brothers, or alongside the high class quality of the Orient Express. It's a team we're incredibly proud of, and undoubtedly a testament to our success and, of course, our incredibly delicious offerings.
This week we took a look at some of our very favourite retro dishes, one of the very fabrics of Forman & Field. Some are quintessentially British, and some lovingly adopted and welcomed as our own, but all are absolute classics that we hold in very high regard.
Let's take a look at some of yours and our favourites, designed for the perfect nostalgic dinner party.
Retro Canapes
What is the perfect retro appetiser? Tasty, but not too overpowering, less than a mouthful, easy to pick up, with no greasy fingers. At Forman & Field there's not a vol-au-vent in sight, and we have an impeccably crafted menu for all tastes. Our Smoked Salmon Roulade makes for a delicious novelty twist. Or for something a little more notably Nobu our Black Cod Skewers are the best balance of sweet, buttery fish and the savoury umami of miso. But undoubtedly, our go to flavour favourites for a retro-inspired dinner party has to be our Blini Kit.
London Cured Smoked Salmon Blini Kit, topped with Caviar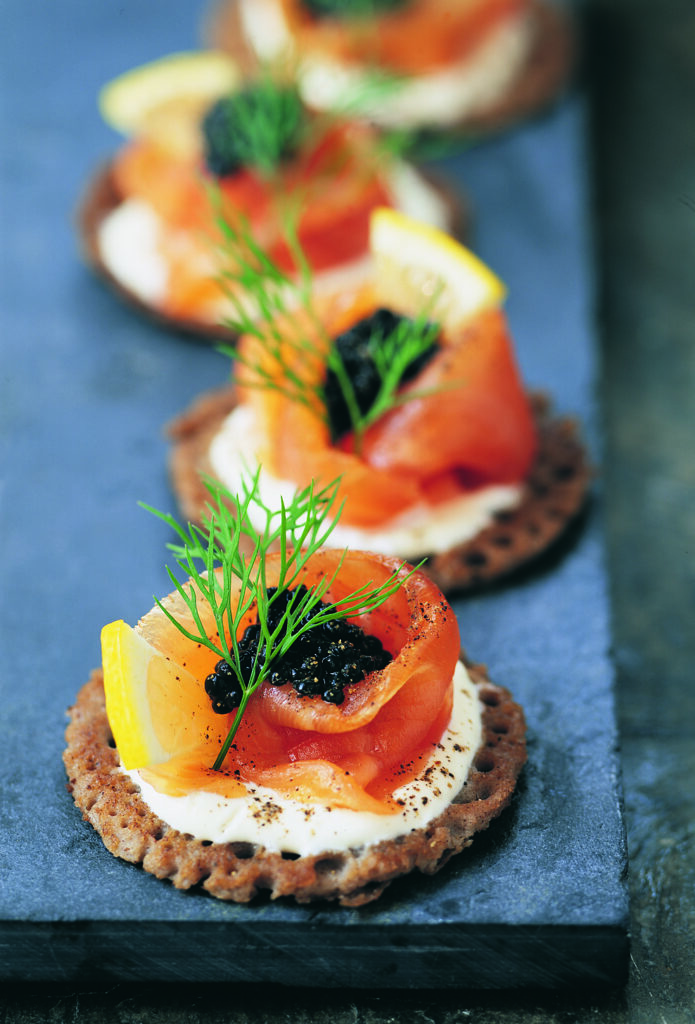 London Cured Smoked Salmon Blini Kit & Kaboodle
A timeless, elegant classic hors d'oeurve, easy to make in large volume, and made even easier by this build-a-blini kit we've created with your dinner party hosting in mind. While there's still a debate on the origins of the sun-shaped blini, there's definitely no question that this delicious, salmon topped disks are a dinner party-perfect amuse bouche.
Our blini kit contains 18 buckwheat blinis, 18 perfectly sliced pieces of smoked salmon, plus enough crème fraiche, chopped shallots and capers for each. A fuss free feeder for your lovely gang. Caviar is of course optional, but highly recommend as an extra sprinkle of je nais se quoi.
Get the English Sparkling Wine on ice, we've got this.
Smoked Salmon Blini Kit £33.95
Caviar from £69.95
To Start
If you're feeding hungry mouths than have saved themselves for this supper, it's important that your starter is light and little so as not so spoil the main course. Our White Fish Salad is Jewish tradition, with our own recipe being made with Smoked Wild Sea Trout, and line caught cod. It's light and delicious and pairs great with a Mel Bagel Crisp. Our Royal Fillet Tartlets also have an excellent retro-tinge, designed with royalty in mind and topped with caviar. Some other favourite alternatives include:
Double Baked Cheese Souffle Suissesse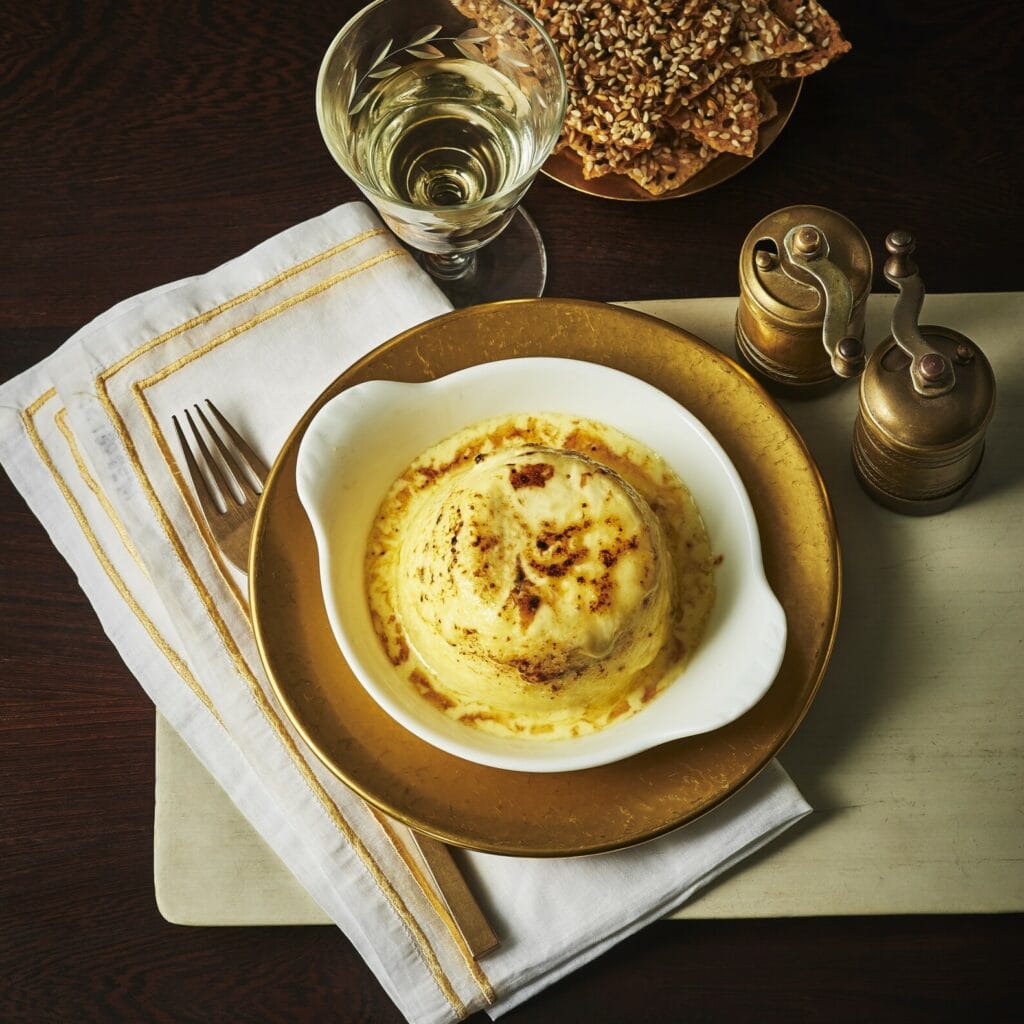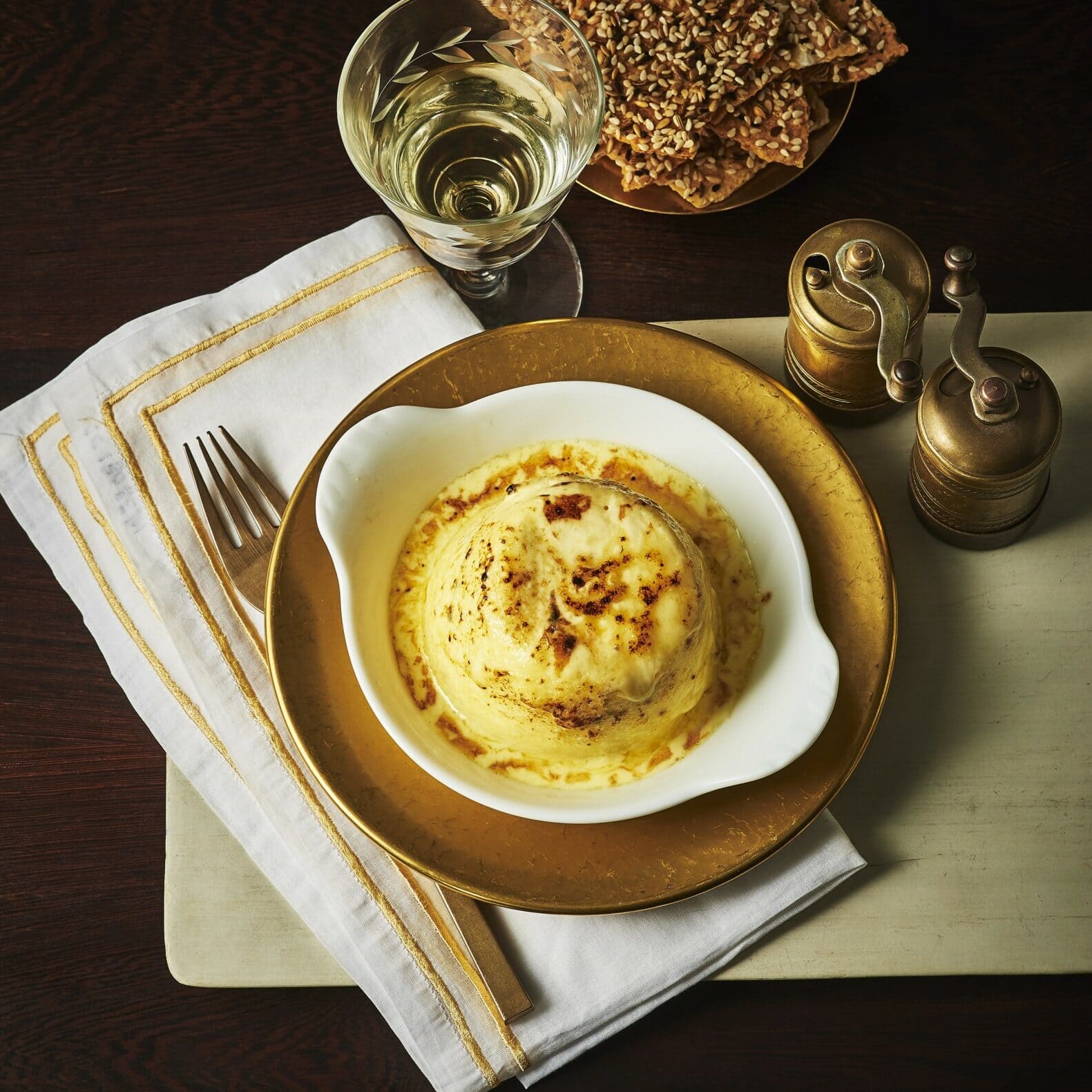 Aside from our smoked salmon of course, our Double Baked Cheese Souffle Suissesse has been the biggest seller for the last two years. It's delicious, and we weren't surprised at alll when we saw just how much you love these dainty dairy-filled pots of perfection. The ingredients might be simple, but perfecting this dish really is a skill. You only need watch absolutely any cooking program to see the beads of sweat start to form at the mere mention of a souffle, which is why we've created these ease-at-dinner pre-made pots.
The Roux Brothers call this a Soufflé Suissesse, and to this day it still features on the menu of The Gavroche. Lloyd Hardwick, our company director, trained with them, and we were all extremely sad to see that the Gavroche will be closing it's Mayfair doors in 2024. With all of this in mind, our Cheese Souffle is a both a heartfelt tribute and legacy.
Cheese Souffle £7.50
Crayfish Cocktail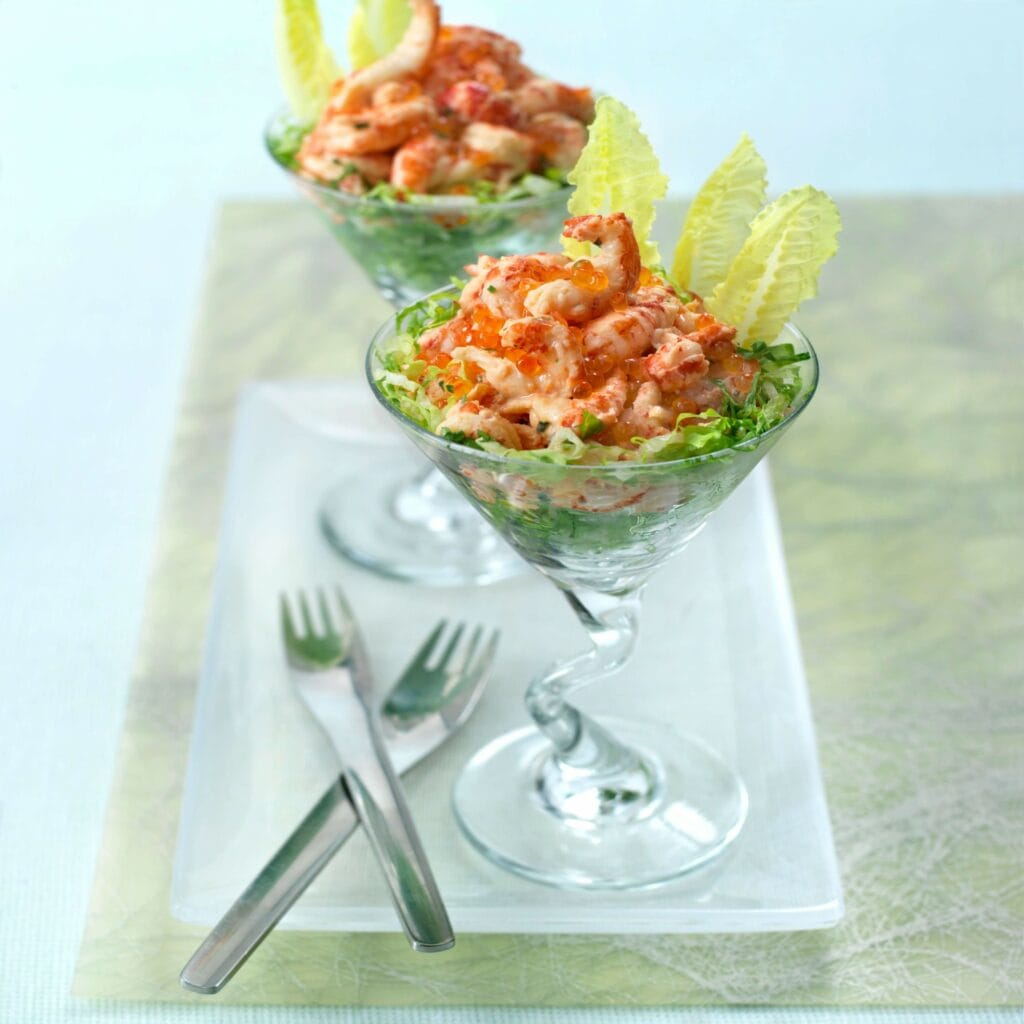 An upgraded version of an 80's classic, our Crayfish Cocktail takes the humble prawn into royalty status. Mixed with jewels of wild salmon and Keta Caviar (now regally renamed our Royal Roe), this dish really is the British epitome of a retro classic. Our coating sauce opts against the formally recognised choice of ketchup, and instead amalgamates the fishy delish in mascarpone, herbs and lemon juice. It's delicate, and classic, and absolutely delicious.
Crayfish Cocktail, 350g £21.50
The Retro Main Course
It's the moment your guests have been eagerly anticipating – the piece de resistance, the star of the show, the culinary gem the steals the spotlight. We take immense pride in all of our creations, but this is when our chefs truly shine. Hailing from a legacy of exceptional restaurants, our chefs merge their expertise to craft extraordinary renditions of the finest restaurant classics, allowing you to impress in the comfort of your own home.
Lobster Thermidor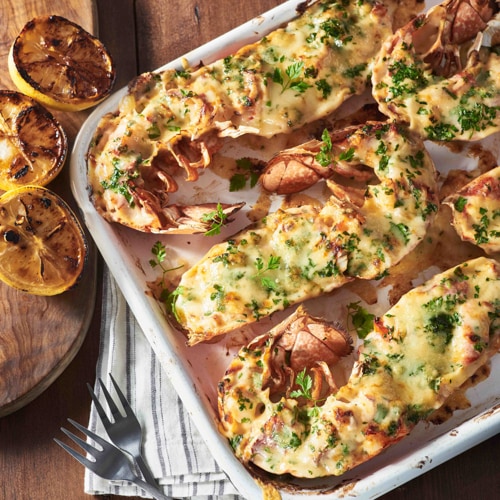 Is there anything more tenderly exquisite on a menu than lobster? It really is the finest choice in any establishment, deliciously delicate and decadent. Our wonderful chefs have created their own heady, cheesy topping to make for a fantastic thermidor, the finest restaurant choice, in your own kitchen. Bliss.
We make each Lobster Thermidor individually with a starting weight of 850g minimum for each lobster, there's no batch processing here! And rightly so, such an opulent dish needs special care and attention. This is a big favourite for milestone anniversaries, ready with just a quick spritz under the grill.
Lobster Thermidor, £79.50
Beef Bourguignon or Coq Au Vin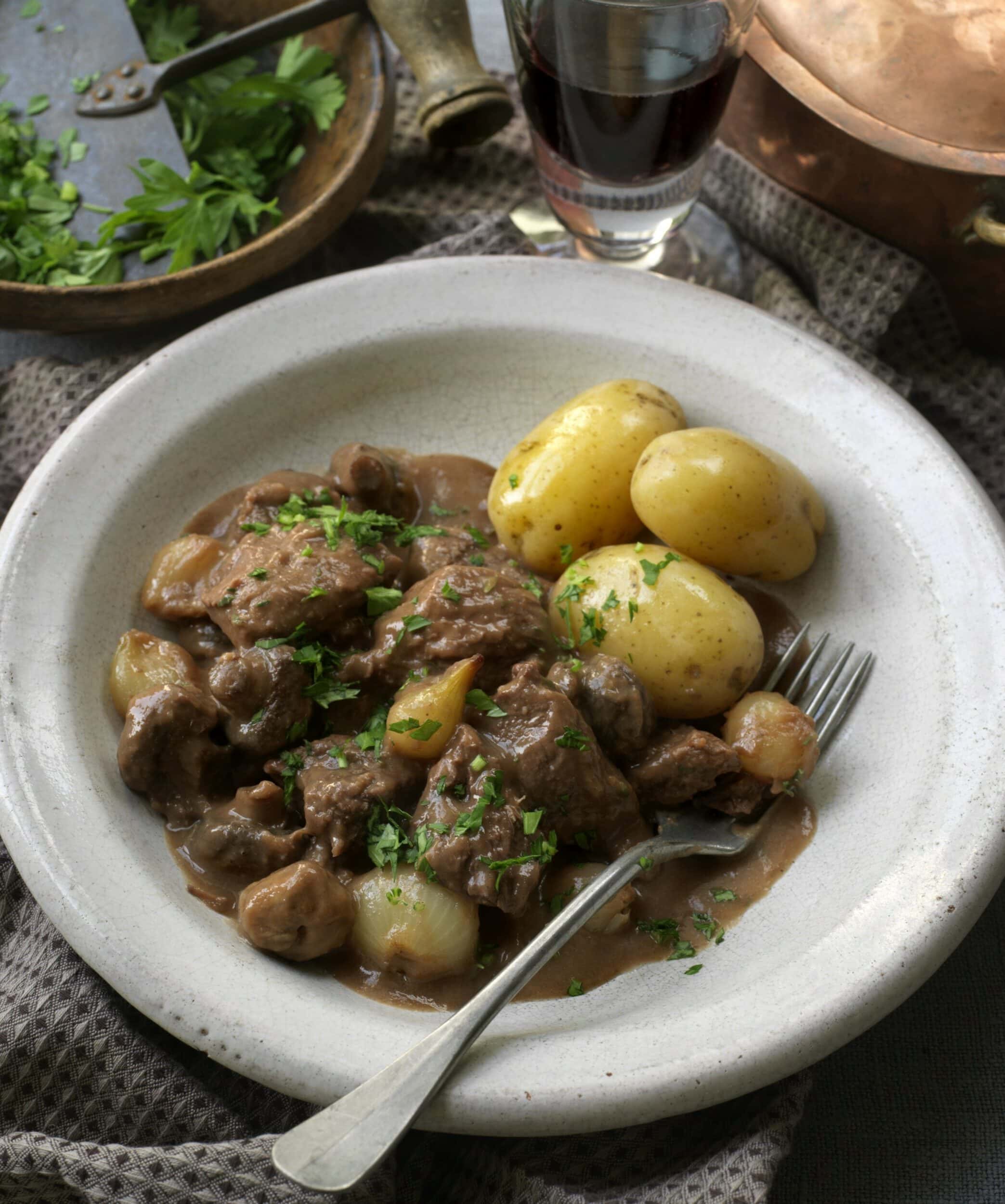 Ok, we've got to hand it to them, when it comes to classic cuisine the French really know what they're doing. Some of the long standing, revered methods come from the classic ways of French cuisine and we make no apologies for the love we have of some of these heart-warming dishes from across the pond.
Both our Coq Au Vin and Beef Bourguignon are odes to the retro/classic epitomes, immortalised by the likes of Julia Child's French Chef Cookbook. With Winter approaching us rapidly, so proven by the sporadic stints of rain, wind and gloom we've experienced recently, it's only a short matter of time before stewed belly, heart and soul warmers are a cold-night necessity. Dinner parties don't need to be delicate palates and impeccable presentation. Sometimes, all that's needed is a hearty stew, touch of class, and a good wine in glass. Both the Coq Au Vin and Beef Bourguignon are a touch of French excellence that have lovingly become a staple British classic.
Coq Au Vin from £8.95
Beef Bourguignon from £13.95
Beef Wellington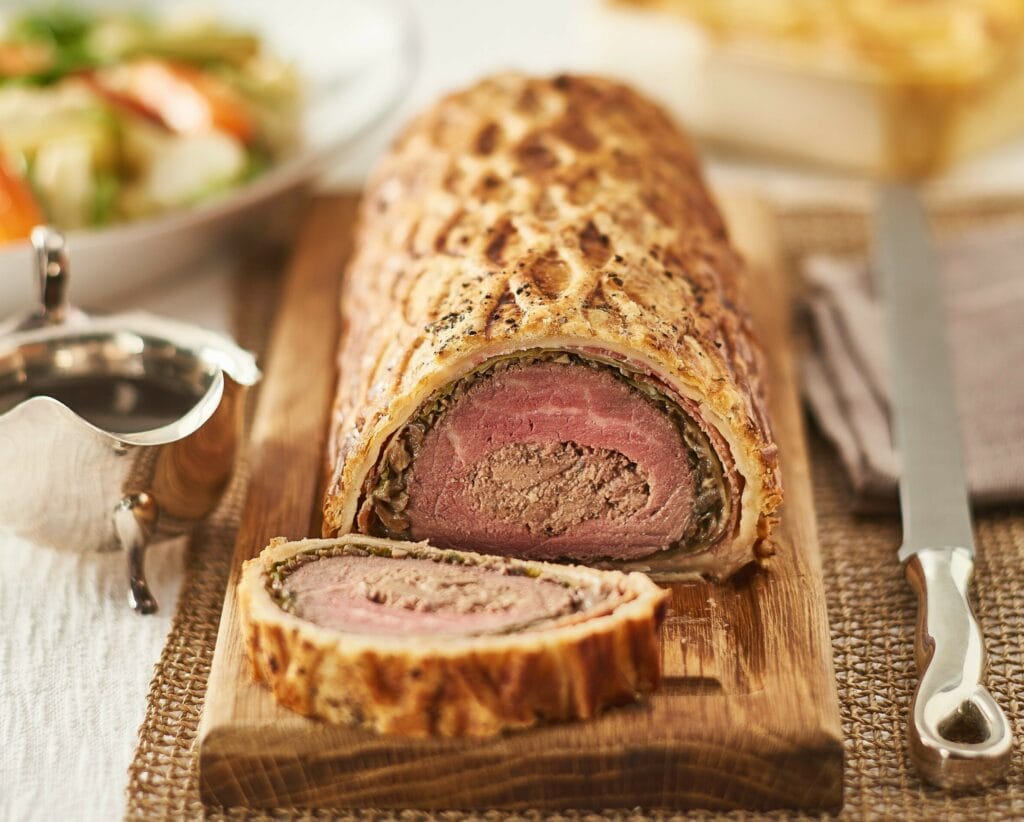 Initially we thought we'd found a truly British dish with which we would wear out British badge with pride. It's true the Beef Wellington was created in celebration of the Duke of Wellington, shortly after his defeat of Napoleon Bonepart, however unfortunately, whilst the exact origins aren't entirely clear, it looks like this was another dish from the French wonders, originally named "filet de boeuf en croute". Regardless, nowadays, it's a very popular addition to fancy restaurants and Sunday roasts, and one of our best sellers not just at Christmas but all year round.
Our chefs have improved the recipe over the years, and our current welly, in our opinion, is our best yet. With 32 Day Aged Aberdeen Angus beef wrapping creamed chicken livers, with air dried ham and a chestnut mushrooms, all encased in a fluffy, chef made puffy pastry – it's a real "WOW" piece, and we won't tell anyone you didn't cook it!
Beef Wellington from £27.50
Dessert
And now…. The end is here…And so I face…. The final curtain… My friend…. I'll make it clear… I'm pretty full… Of which I'm certain…
So you've dined and wined and had a mighty lovely time, but dessert is almost obligatory.  Just when you think you can't eat any more, you get a glimpse of the final course and suddenly, you find a small amount of room to try the delights. British retro desserts are often delicately breaded, somehow taking density and adding irresistible flavour, too good to turn down and our Bread & Butter Pudding with Irish Cream is the most exemplary classic retro dessert dish in Great British history.
Bread & Butter Pudding with Irish Cream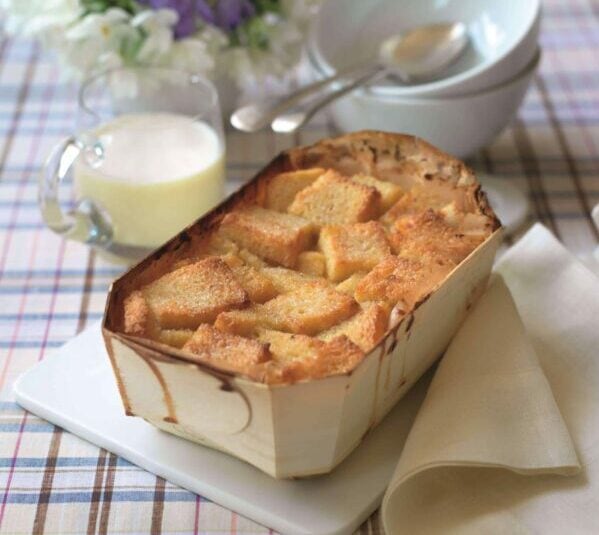 Eaten through generations of families (including my own!) and tweeked by our chefs with a every-so-slightly boozy lacing of Irish Cream Liqueur. It's naughty, and nice, and a great way to end the night. Our extra-light Crème Anglais makes a fantastic optional glaze.
Bread & Butter Pudding £11.95
*NEW* Summer Pudding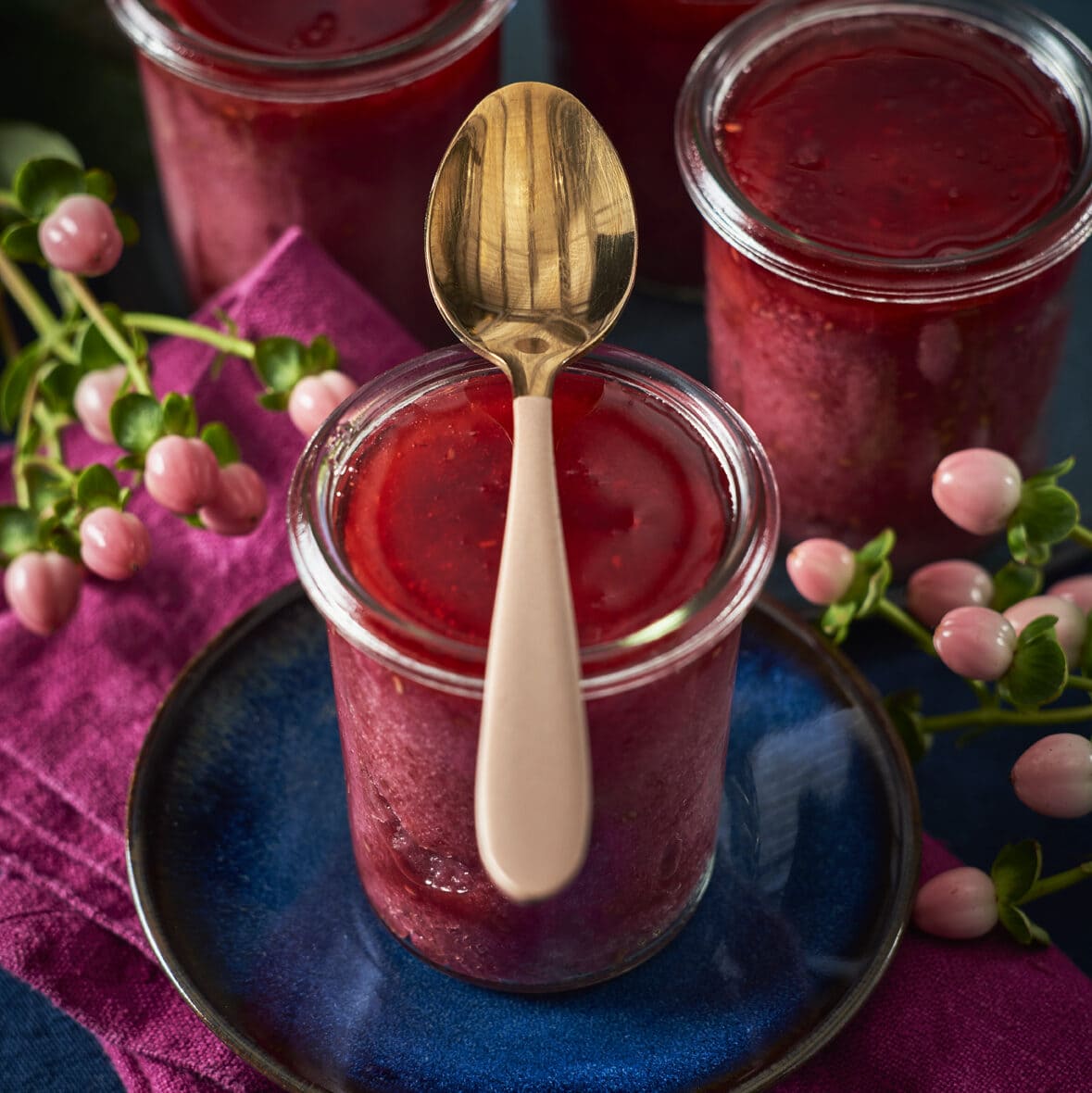 With the launch of our Annual Catalogue just a few short weeks away, our Summer Pudding is just a little tease into some of the great new products our team have created to take us into next year and beyond. Adding to a potted desserts collection, the perfect portion for one person, the Summer Pudding is bready but light and absolutely bursting with flavours of summer fruits, even with the winter drawing in It's one of our newest favourites and it's pretty too! Dating back to the Victorian era when our frugal friends found ways to make the most of old bread, it's absolutely delightful and delicious and it's stood the test of time for that very reason.
Summer Pudding £6.95
And there you have it. We've delved into the nostalgic flavours of our yesteryears, added our own bit of magic. The epitome of a retro revival that has never truly gone out of style. What's your favourite here, and do you have any go to retro