In Memory of Marcel Forman (1934-2023)
It is with great sadness that we share the passing of Lance's father, who many of our longest-standing customers will have known. Born in Nowy Sacz, Poland, Marcel was a Holocaust survivor who arrived in Britain after the war. He married Irene Forman, the granddaughter of our founder, Harry Forman, and adopted the Forman name when he took the reins at Forman's in 1962, (the year Lance was born), where he ran the business until 1998.

As one of the founders of the Royal Academy of Culinary Arts, every leading chef in London knew Marcel Forman and his famously delicious smoked salmon. He will be greatly missed by all.

Please read on if you'd like to learn a little more about the life of Marcel, written in his own words, and all he overcame before Forman's was born.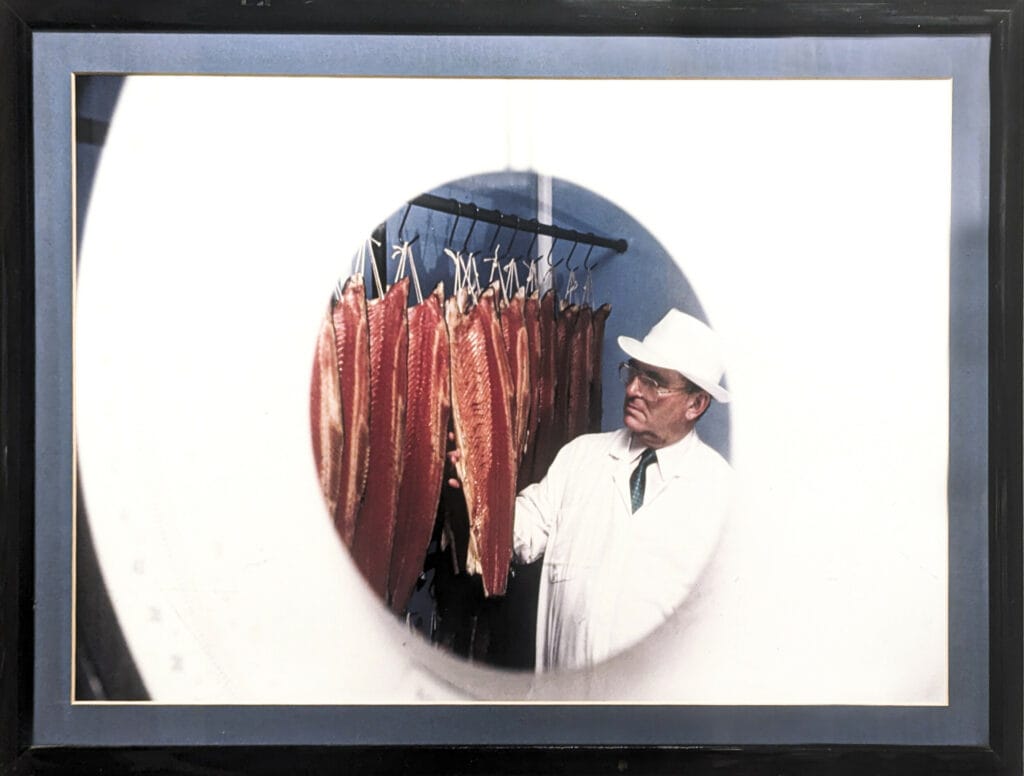 Marcel's story….
"I was born on 17 September,1934 in a small town in Poland called Nowy Sacz in the area of Galicia near Krakow. My parents, Regina and Osjasz also had a daughter, my younger sister Jacqueline.
My parents were well off and lived in the centre of the town in a luxury flat. My father was a director of a local bank and also had a wholesale and retail food business, which he ran from the age of 13 with his brother Motek, aged 14. Their parents both died very young. Life was good for us and although there was quite a lot of anti-semitism from the Polish people, we did not suffer from this as my father was kind and generous to the locals.

In September 1939 the Germans marched into Poland and were approaching our town so my parents decided to move east and travelled to Przemysl. The Germans arrived soon after us. We were not badly treated by them and I even remember a German officer offering some sweets to my mother for my sister and me. When the officer left my mother would not give us the sweets as she said they may be poisoned. There were bad stories going around that the Germans were taking all adult men and sending them to labour camps.

We moved again, further east, to Lvov which was under Russian occupation. We found things difficult during this period. Food was scarce and we had to queue for everything including bread. Some of our family including my maternal grandmother, who remained in their home town, wrote to us and told us that there were no shortages under the Germans and life went on normally. My father, as did many other people, put our names on a list to obtain a permit to travel back home to Nowy Sacz. This list was getting longer and longer, but no one was allowed to leave.

On arrival, we were marched from the station to the centre of the village where we were told to make ourselves as comfortable as possible in a large wooden communal hall. Hundreds of us all lay down on the hard floor without seats or bedding. Within a few days of arriving we were told to cut down trees in order to build houses for ourselves. The snow was very often higher than the doors to the building and tunnels had to be dug for the men to leave for woodcutting.  A few weeks later a number of wooden houses were finished; no heating, no lighting and no indoor toilets, just one room, divided by a hanging blanket for two families.
Many months later we heard that Hitler had declared war on the Russians and we were no longer considered enemies of the state. We were allowed to travel and settle in any part of Russia but we could not leave the country. Most of us decided to travel to Uzbekhistan and we settled in Bukhara. There was a large Jewish Uzbekh population and one of these families gave us a room on the top of their large house. We had to climb about a hundred stairs from a large square courtyard onto a terrace with a room at the side. The Uzbekh family made us feel quite welcome although they did not want us as permanent guests. Who knew how long we would stay there and who knew how long the war would last? No one.

My father, having been a businessman since early childhood with his brother found a source of food. His activities of buying and selling made him a 'spekuliant' (a speculator), which was one of the most serious crimes in communist Russia. Had he been caught he would have been thrown into jail for ten to fifteen years. So I, at the ripe old age of eight or nine, used to help my father carry some of the products to the buyer as it was safer than my father carrying things.
My mother, whose father in Brzesko, in Poland, was one of the largest egg wholesalers and exporters, got a job in an egg-sorting government factory. Between them they could not earn sufficiently to support us all, so ,I tried one or two money making activities, as there was no school for us to attend. I woke up extremely early to buy one or two newspapers (which were in short supply) and then went back home and sat outside our house cut up the papers into small pieces and sold them to people for rolling cigarettes I also walked with a heavy metal bucket to the nearest well, fill it with as much water as I could carry and start making my way back home, often spilling half the water en route, and with what was remaining, I stood outside with a metal mug and sold mug-fuls of water to passers by.

For fun, we used to ask our local milk salesman if we could ride his mule, which he usually tied to the big wooden gate of our building. We used to play with the local children, but not too often, as they used to insult us about being Jewish. They used to punch us until my parents came along to rescue us.

In the summer of 1943 there was an epidemic of typhus across Uzbekhistan, due to lack of sanitation. There were no proper toilets, just holes in the ground, and no baths in most of the houses. People who could afford it would go to the local public baths but it was very expensive. There was also malnutrition and lack of medication. I was the only one in our family of four who did not contract this horrible disease, but both my parents and sister were laid up with it and only survived due to selling or bartering any valuables that we had for medical help. I was the nurse and the breadwinner at the age of only nine. Thousands of people did not survive this epidemic, including my grandfather.

At this time we received a letter to report to an office to be transported to Iran to join the families of the Polish army of General Anders. From Iran we were to be taken to Palestine, where we could spend the rest of the war, but unfortunately, my parents nor sister were in a state to leave their beds and that opportunity passed. We started receiving some parcels from a refugee organization which contained some second hand clothing, tins of tuna and Carnation milk. It was not much but better than nothing. We were excited each time a package arrived for us.It was nice to know that we were remembered, by whom I am not sure.

We were receiving postcards from one or two members of the family from our home town. The news was always bad. My mother's brother, who would not leave home, mainly because of his mother and the family egg business was questioned by the Germans as to where the family fortune was. When he would not tell them, he, his wife and children, and his mother (my grandmother) were taken out into the town square and he was shot in the back of his head in front of his whole family and many of the town's people. This was confirmed to me when I was in Poland in 1987, by a man who witnessed this murder. We did not hear any more about the rest of the family and I believe they were sent to Auschwitz, where they ended their lives. My father's remaining brother, Dr Josef Anisfeld, and sister, Dr.Helena Sternlicht, also did not survive. She fought until her death in the Warsaw Ghetto.

We saw foreign delegations come to Bukhara, very elegantly dressed, which made us jealous, because we hardly ever had a change of clothes, and my sister and I during the five years in Bukhara, walked barefoot. There was no schooling for the immigrant children, so my parents tried to do what they could with our education.

Eventually in 1945 the war ended and we enquired from the authorities about any surviving relatives. All we had was a telegram, in English, which we could not understand at that time, that everyone was dead. It was another year, in 1946, that we were allowed to leave Russia, back to Poland, although not to our home town, but to a town called Wroclaw from where German families were escaping into east Germany away from the Russian and Polish armies.

In our home town of Nowy Sacz, there was nothing left for us. Our beautiful apartment, which was taken over by the Germans during the war, as the Gestapo headquarters was now being used as the local police station. My father's business premises had been taken over by some local people. The Jewish population which, before the war, was about 40-50 percent of the total of 30,000 people, were all wiped out apart from the people like ourselves who escaped eastwards. We were taken by the Russians as prisoners, but this saved our lives.

My sister and I were brought to England on the kinder-transport by Rabbi Solomon Schonfeld, in November 1946. My parents could not get a permit to enter England until 1948, when we all re-united to start a new life. Unfortunately my parents, Regina and Ozjasz Anisfeld died in 1959 and 1961 respectively aged 56 and 51."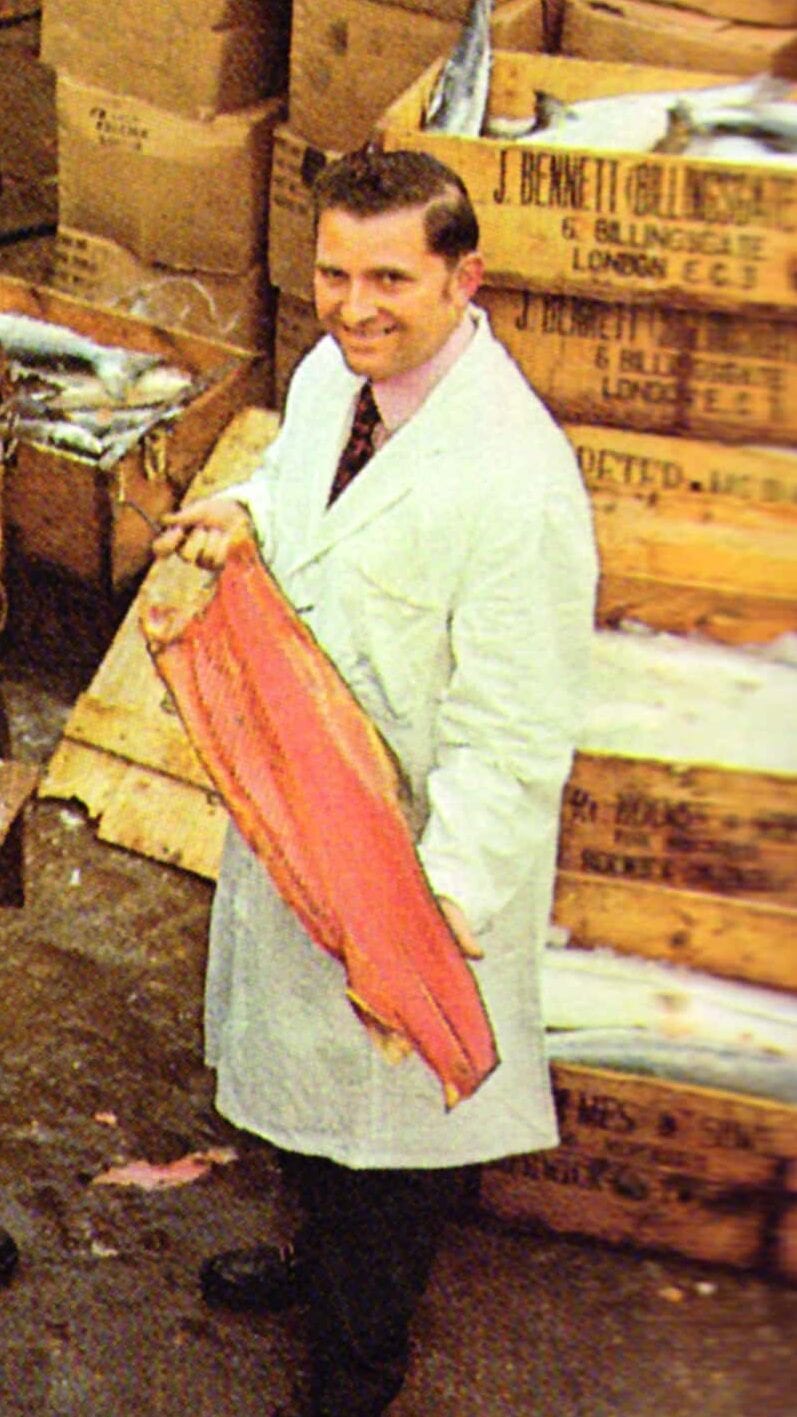 We wish Lance and his family all of our condolences at this difficult time.