And just like that, it's nearly April, which means it's time to start planning your Easter Sunday lunch menu. After a long morning of hunting for chocolate eggs – an exhausting task, might we add – your guests will no doubt be ready for a festive feast. But what ever will you serve them?!
We've put together our perfect Easter lunch menu, which ticks all the boxes. Seasonal, local spring lamb? Of course. Hot cross buns? Naturally! We've even offered vegetarian alternatives for each course, so that you can keep all of your guests happy.
Keep reading for our ultimate Easter Sunday lunch menu, and make sure you order by X to guarantee delivery in time for Easter.
Nibbles: Smoked Salmon Canapes with Keta Caviar; veg alternative, Faux Salmon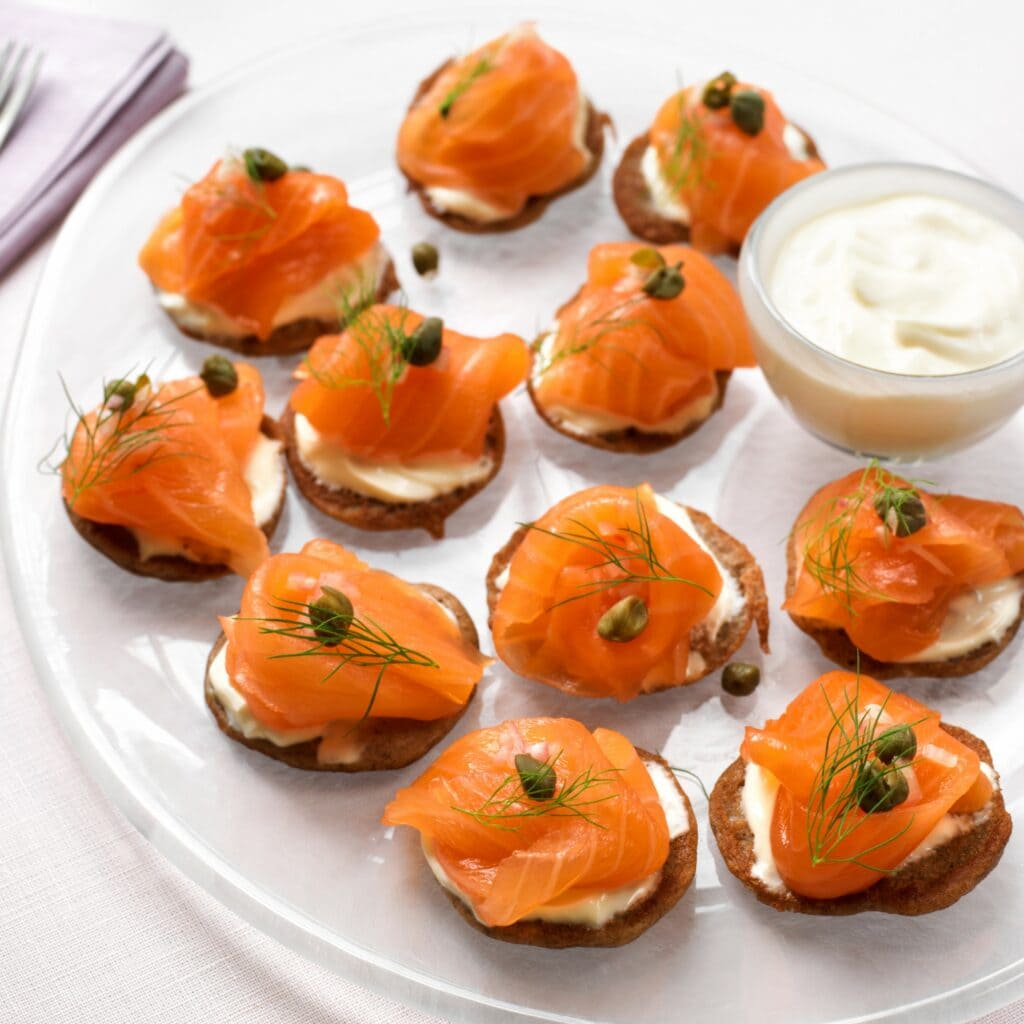 Everyone loves a canapé, and these smoked salmon blinis are just a delight. Our Smoked Salmon Blini Kit contains exact portions of everything you need: light-as-air blinis, which our chefs make to order on the day of dispatch; perfect slices of famous London Cure Smoked Salmon; sour cream; finely chopped shallots; and capers, which burst with delicious acidity.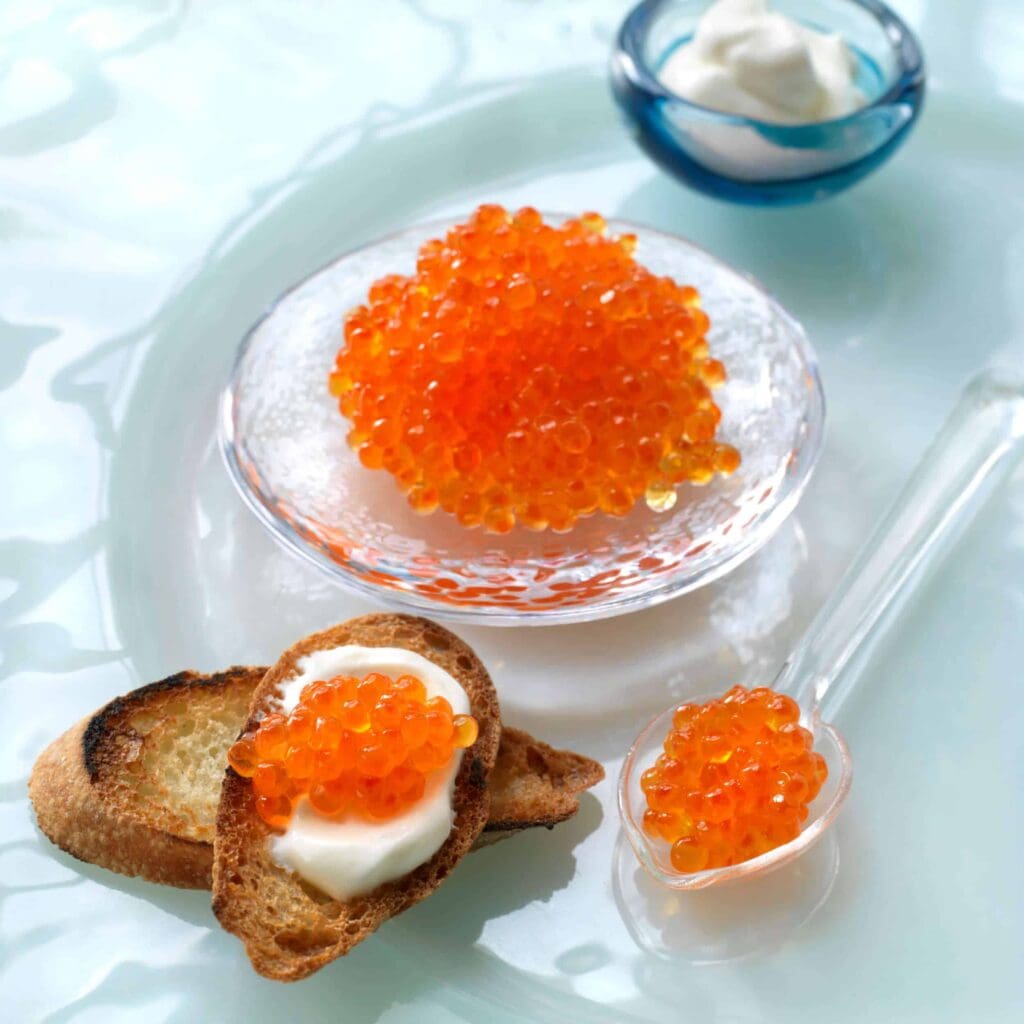 For a festive nod to Easter, top your blinis with Keta caviar. This little pearls of trout roe pop gently in the mouth, releasing an intense but very pleasant flavour. Or, if you really want to push the boat out, go for ZwyerCaviar – expertly, ethically produced sturgeon caviar, which is wonderfully rich and creamy. A sheer joy to eat; you won't find better Easter eggs anywhere!
Vegetarian alternative: Swap the smoked salmon for our Faux Salmon, which is made using carrot, seaweed and smoked paprika. Delicious!
Starter: Chicken Liver & Brandy Parfait with Seeded Crackers; veg alternative, Mushroom Pate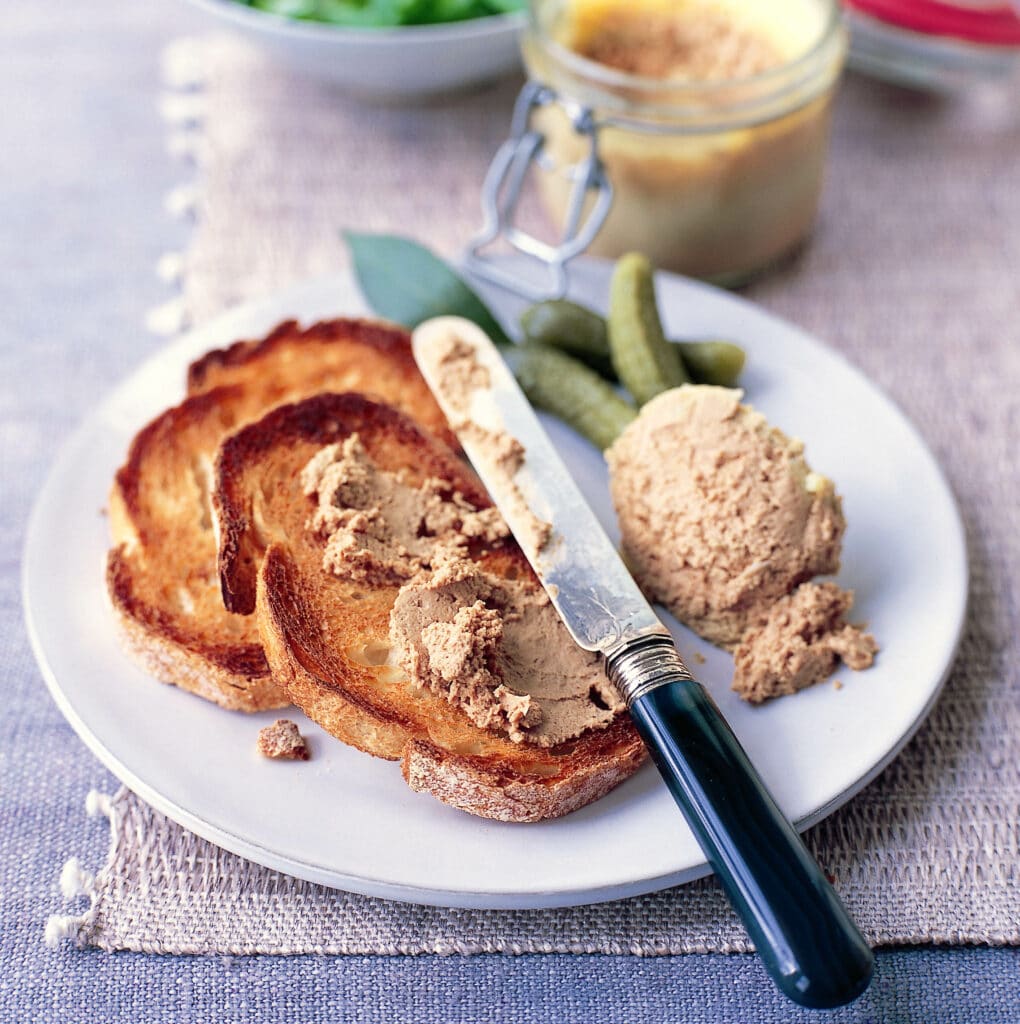 As the main course in this menu requires a fair amount of cooking time and oven space, we're keeping the starter as simple as can be. Our Chicken Liver & Brandy Parfait is always a crowd-pleaser. Our chefs make it with free-range chicken livers, which they cook slowly in a water bath to remove any hint of bitterness, before adding cream and a good glug of cognac. What makes this a parfait, rather than a pate, you may ask? Well, a parfait is much lighter in texture, almost like a mousse, whereas a pate is usually denser, like butter.
You can serve this parfait straight to the table in its kilner jar, alongside some delicious Seeded Crackers. Or, if you are feeling "cheffy", spoon the parfait onto individual plates in quenelles, with some artfully placed pickles.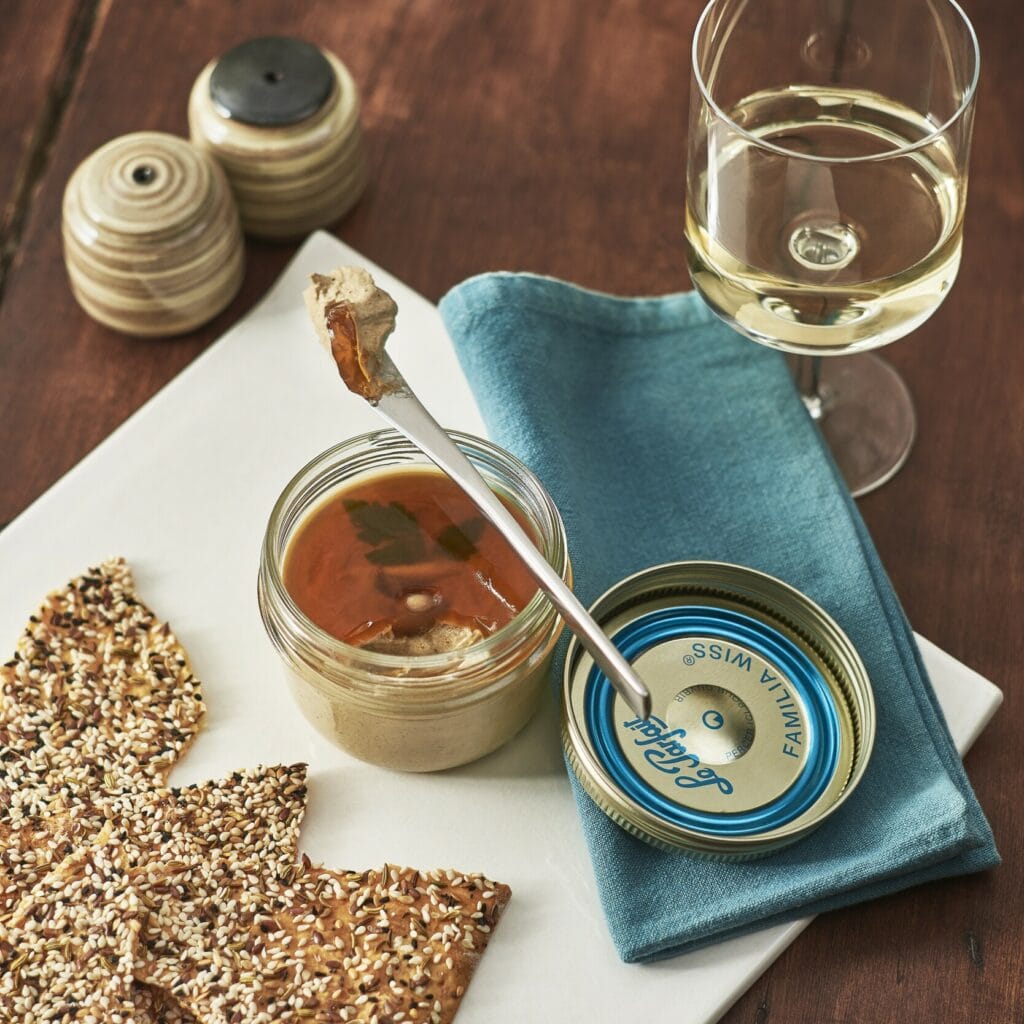 Vegetarian alternative: Our Field Mushroom & Tarragon Pate is packed with earthy mushroom flavours and is loved by veggies and meat-eaters alike. Follow the serving suggestions above for an elegant vegetarian starter.
Main Course: Roast Leg of Kentish Lamb; veg alternative, Vegetable Coulibiac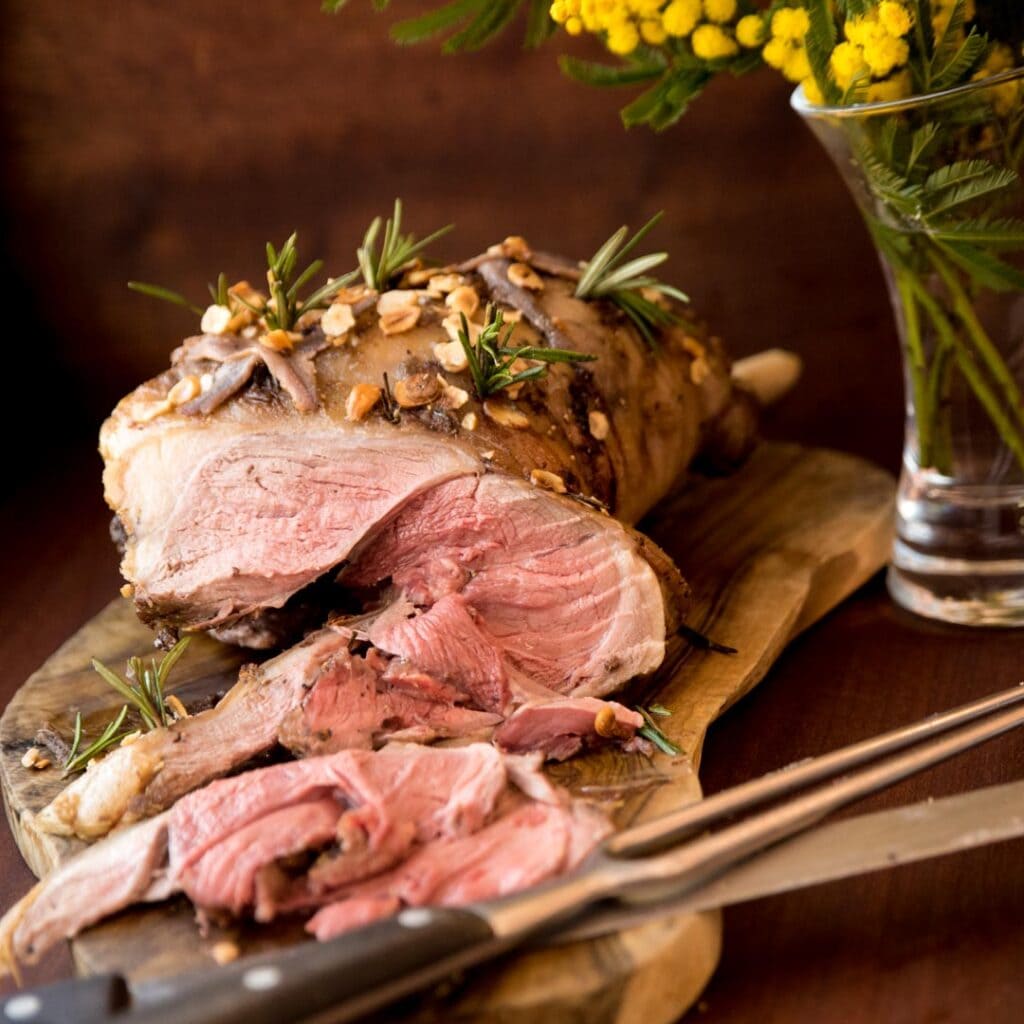 It really wouldn't be Easter Sunday without roast lamb. With spring comes the best ever English lamb, and this Leg of Kentish Lamb is as good as it gets. The quality is second to none. But what really makes this dish special is the way that our chefs prepare it for you. First, they partially bone it, which makes carving a breeze. Then they stud with hazelnuts and anchovies, for incredible aromas, before arranging a criss-cross of anchovies on top. If you've never tried anchovies with lamb, you're in for a real treat; the saltiness cuts through the richness of the lamb beautifully. It's simply spectacular!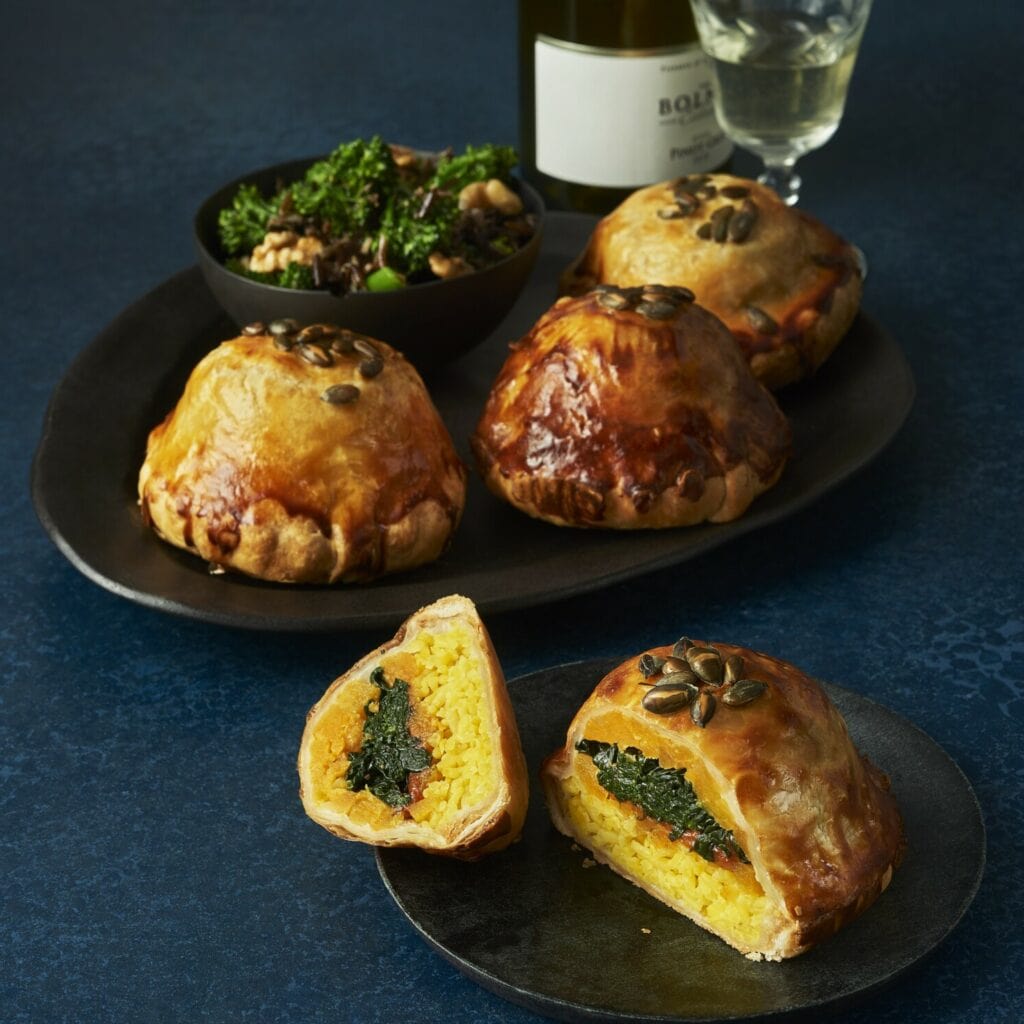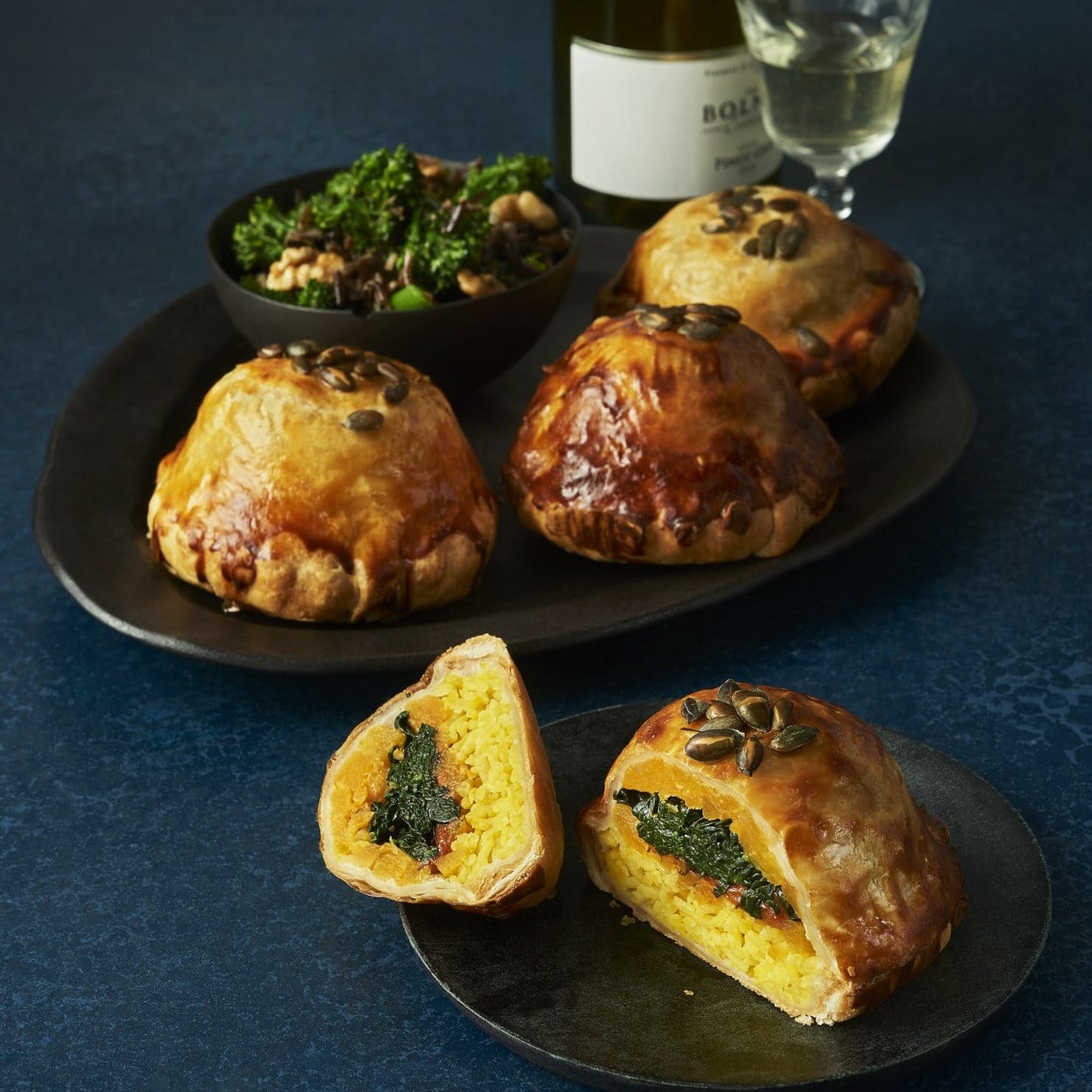 Vegetarian alternative: Instead of going for a main course that imitates meat, why not celebrate vegetables in all their glory? Our Vegetable Coulibiac does exactly that. It's essentially a vegetable en croute: homemade golden puff pastry, wrapped around vibrant roasted vegetables and heady saffron rice. We also offer it as an individual portion, so it's ideal if you have just one veggie guest to feed.
Sides: Pommes Chateaux, Roasted Root Vegetables, Petits Legumes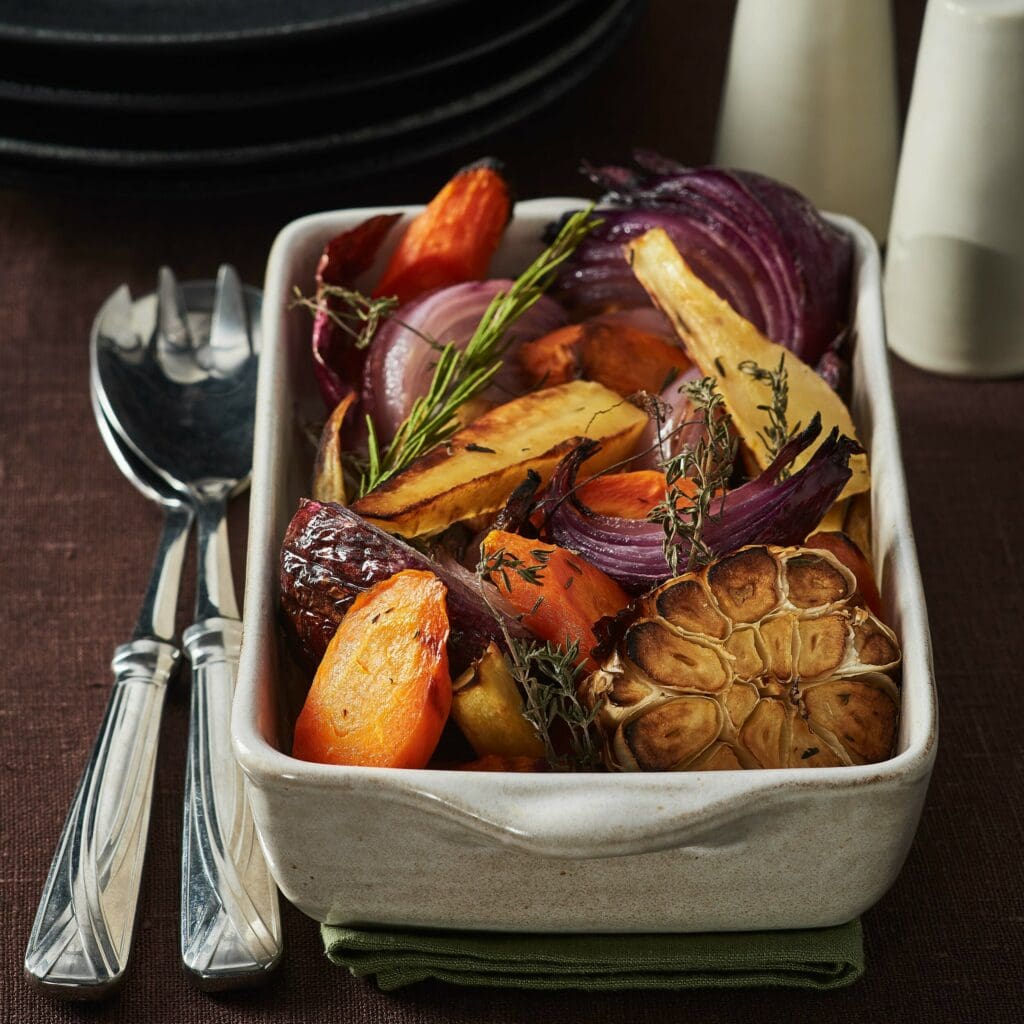 No menu is complete without some sumptuous sides, which is why we're including three delicious options on our ultimate Easter lunch menu.
Perfecting the art of roast potatoes is a skill that can take many years to master. Luckily, with these Pommes Chateaux, you'll get perfectly golden spuds, every single time. The secret is to use Seldom Seen Farm Goose Fat, which gives your roasties a beautiful golden colour as well as a wonderfully crisp exterior, whilst staying fluffy inside. For a splash of colour, as well as even more delicious flavours, we'll also be serving Roasted Root Vegetables and Petits Legumes (dainty turned vegetables, stirred through with herby butter) at our Easter table.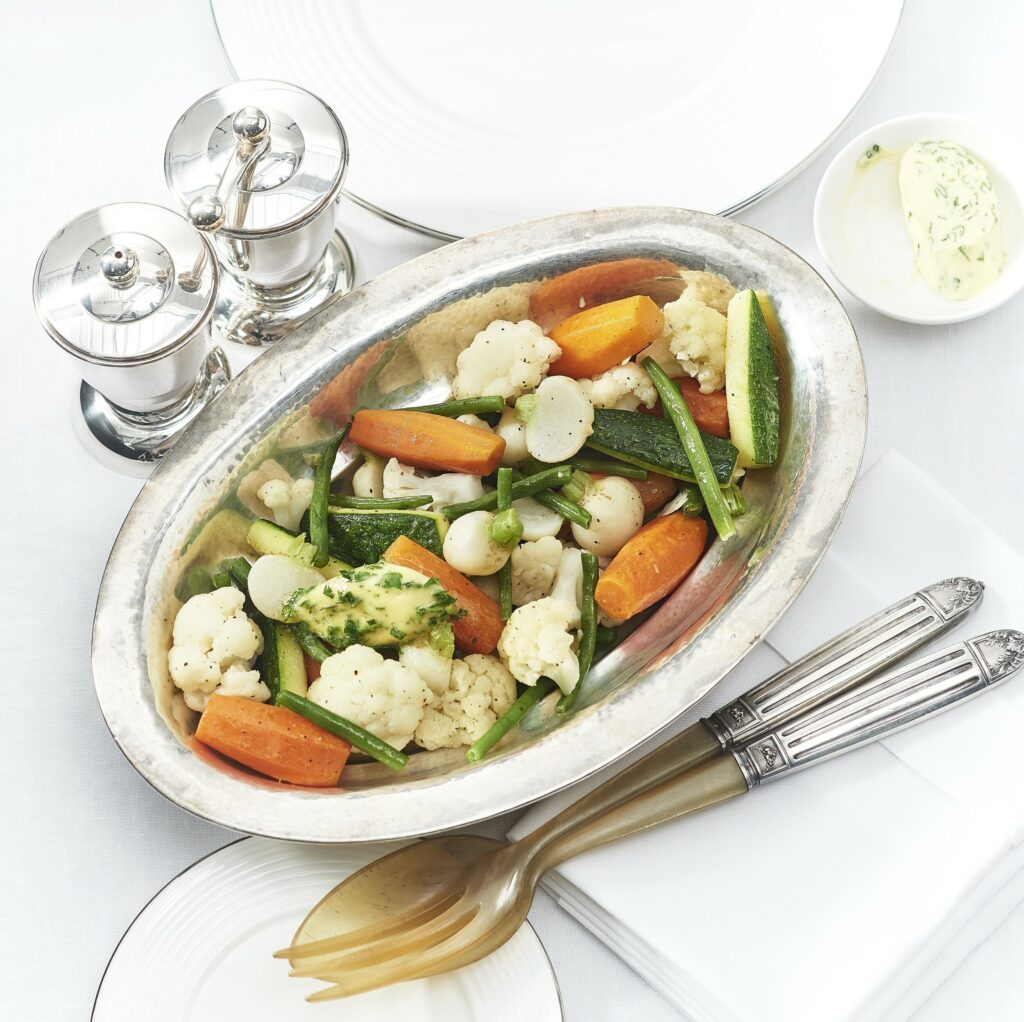 Vegetarian alternative: Our Roasted Root Vegetables are naturally vegan, and our Petits Legumes are suitable for veggies!
Dessert: Hot Cross Bun & Butter Pudding, Crème Anglaise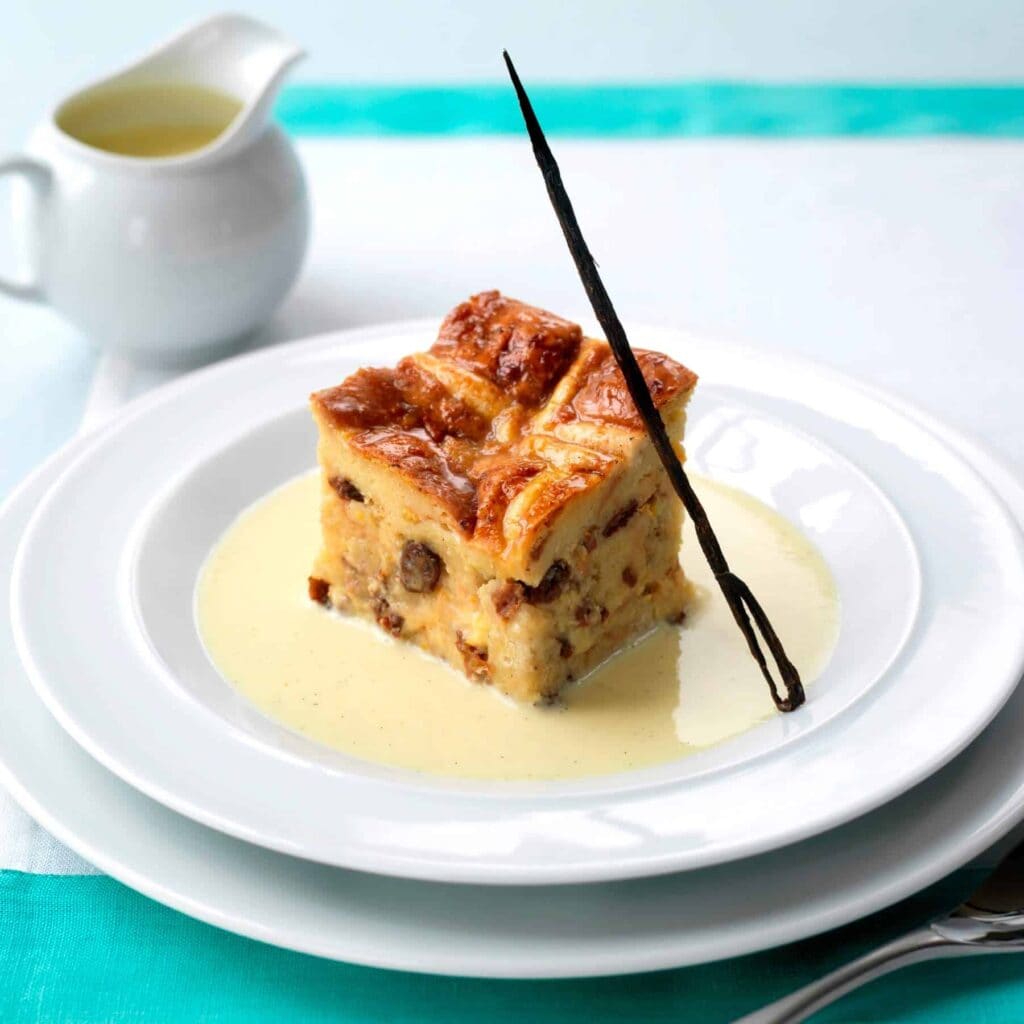 Hot Cross Buns are an Easter staple, but they won't really do for dessert… Until now! Our chefs have taken the classic bread and butter pudding to a whole new level, using aromatic hot cross buns in place of the traditional bread. This Hot Cross Bun & Butter Pudding is lightly spiced and zesty, with orange rind, orange liqueur and just a hint of nutmeg, and it's best served with lashings of Crème Anglaise.
Vegetarian alternative: This one is suitable for veggies – hurrah!
Mignardise: Artisan du Chocolat Salted Caramels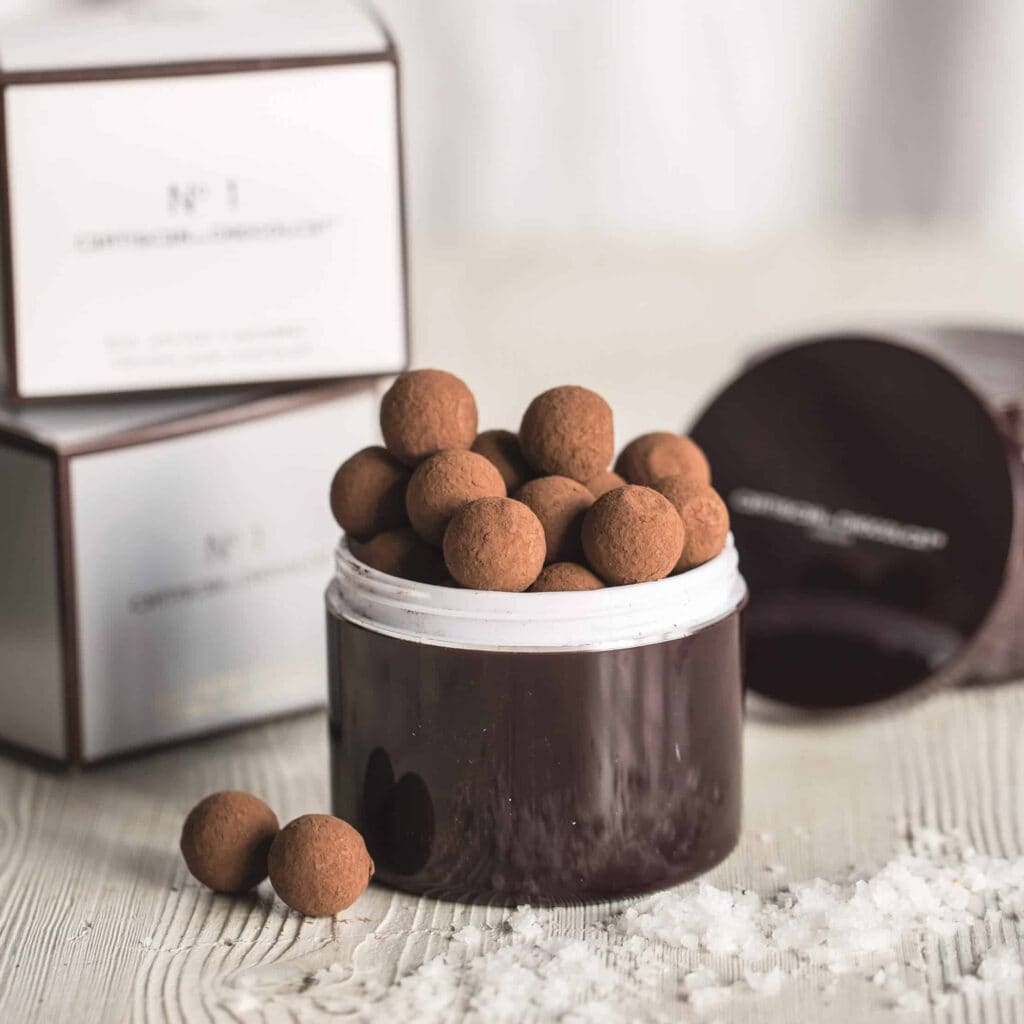 It's Easter, which means there's always room for chocolate. This year, the Easter Bunny has left us this delicate chocolate pearls, filled with a luscious salted caramel, handmade by our friends at Artisan du Chocolat. Choose from either milk or dark chocolate, and serve at the end of the meal with teas and coffees. Presented in very chic packaging, they also make a wonderful gift for your host.