What do you get the person who has everything?
You're likely already familiar with our exquisite smoked salmon and our chef-crafted, home delivered gourmet meals, but there's another specialty we're passionate about—spreading the joy of giving!
At our core, we're fervent advocates of expressing love to those who matter most, supporting those in need, and simply showing some gratitude to those key characters in our lives. Our collection of gifts and hampers is a truly delightful way to convey your heartfelt care. From Jersey to John O'Groats, we're dedicated to delivering your thoughtful gesture right to their doorstep, complete with your own crafted personalised pick-me-up message.
Whether you're looking to send a "Get Well Soon" token, seeking a budget-friendly pick-me-up, or aiming to please a discerning and hard-to-please foodie, we have a little something for every occasion.
The act of giving gifts is a time-honoured tradition, dating back to our earliest ancestors who exchanged unique rocks or animal teeth as gestures of goodwill and social bonding. Fortunately, our gift-giving customs have evolved considerably since then. Nowadays, we use gift-giving to celebrate significant milestones, express our affection, and uplift someone's spirits. The motivations behind gift-giving are diverse, and it's crucial that whatever your reason may be, we provide options sure to elicit genuine delight.
Gifts For Mum
Mother's Day is every day! We don't need to wait for March to arrive to show the number one woman just how special and important she is. There are endless reasons to thank this very special lady, and most aren't replicable because they come from the depths of our own hearts, HOWEVER, where there is cake there is also love,
Our Afternoon Tea Hamper was designed with Sundays at the Ritz in mind. An exquisite collect of cakes and treats made on site by our superb pastry chefs, the only thing missing is the tiered cake stand! A guaranteed Mum pleaser, fit for a queen, and hopefully she'll share a bit with you too!
For those with a little cheeky side, our Afternoon G&T Hamper is a playful twist on the modern classic, featuring gin instead of tea, so whatever the Mum's tipple we've got it covered.
Both hampers are delivered in a beautiful hat box, and come with the option of personalising with their name and your own message on the Strawberry Ripple Cream jar. Delightful.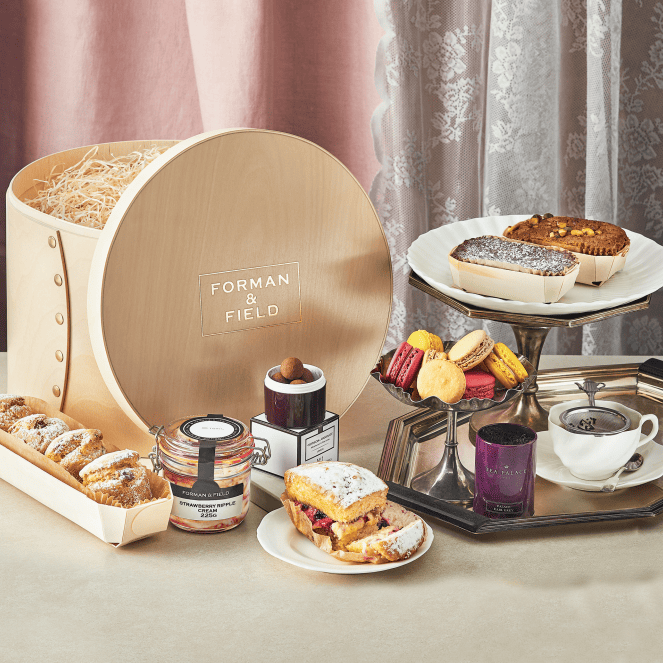 Gifts for Dads
By far one of our most loved products around birthdays and Father's Day is our Triple Smoke Box. Featuring James Eadie, a truly superior scotch of which Lance, our companies owner, gives a personal seal of approval. Along side this chest-warming tipple comes our home-smoked water, a handy kitchen addition for a smoke-loving cooking enthusiast, perfect for adding that husky smoke flavour to soups, sauces and even pasta. Finally, of course, our ever-loved Smoked Salmon, the finest of the Smokes, completing the trio of Smoke Fantastics.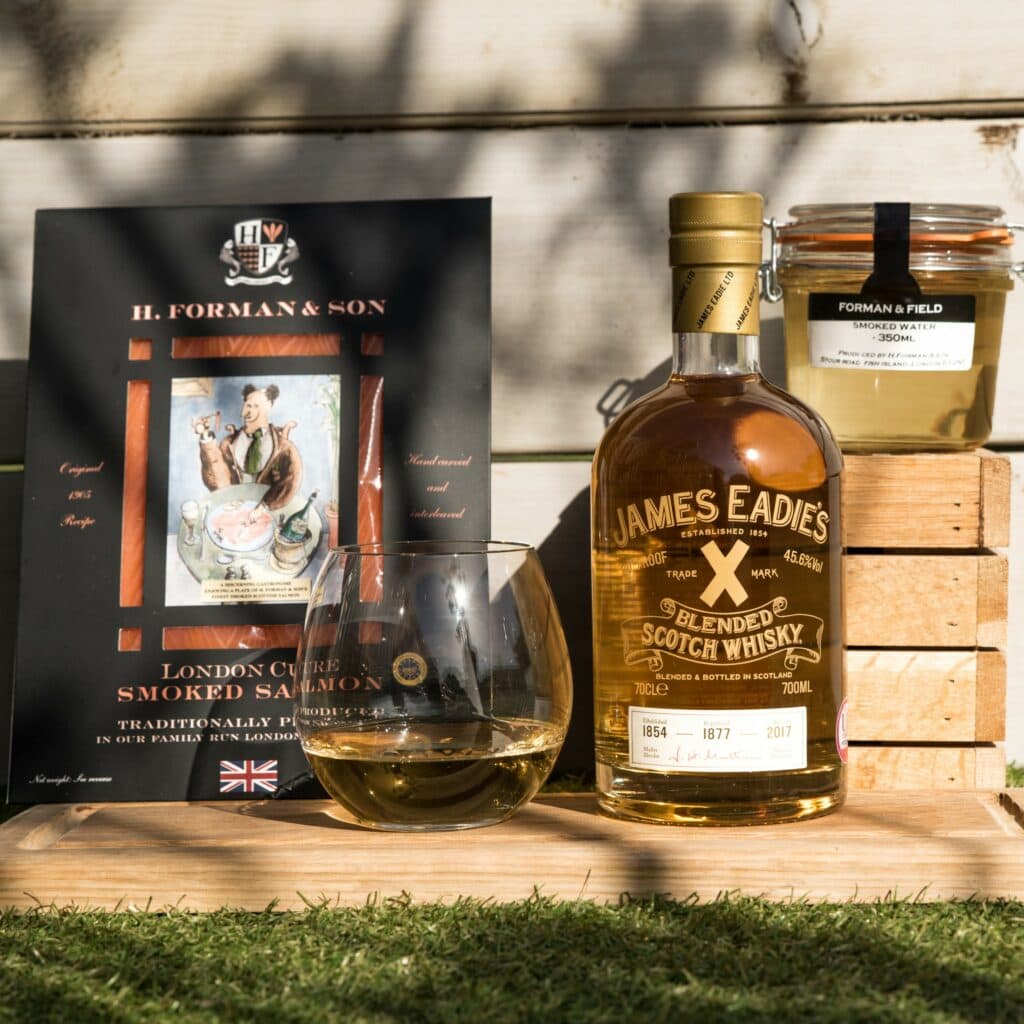 Gifts for New Parents
Our New Baby Basket features an adorable recipe book of natural foods to make for the bubba, simple to put together for a time, and often energy strapped new parent. Written by Annabel Karmel, it was dubbed a "baby bible" and was for a long time a number one best seller.
The hamper also includes 2 bibs for Baby, a teether. some of our revered Smoked Salmon, 3 mini cakes made by our pastry chefs, and a demi-sec wine ready for that first special toast. Light snacks and light bubbles for Mum & Dad, nourishment for the baby, it really is adorable.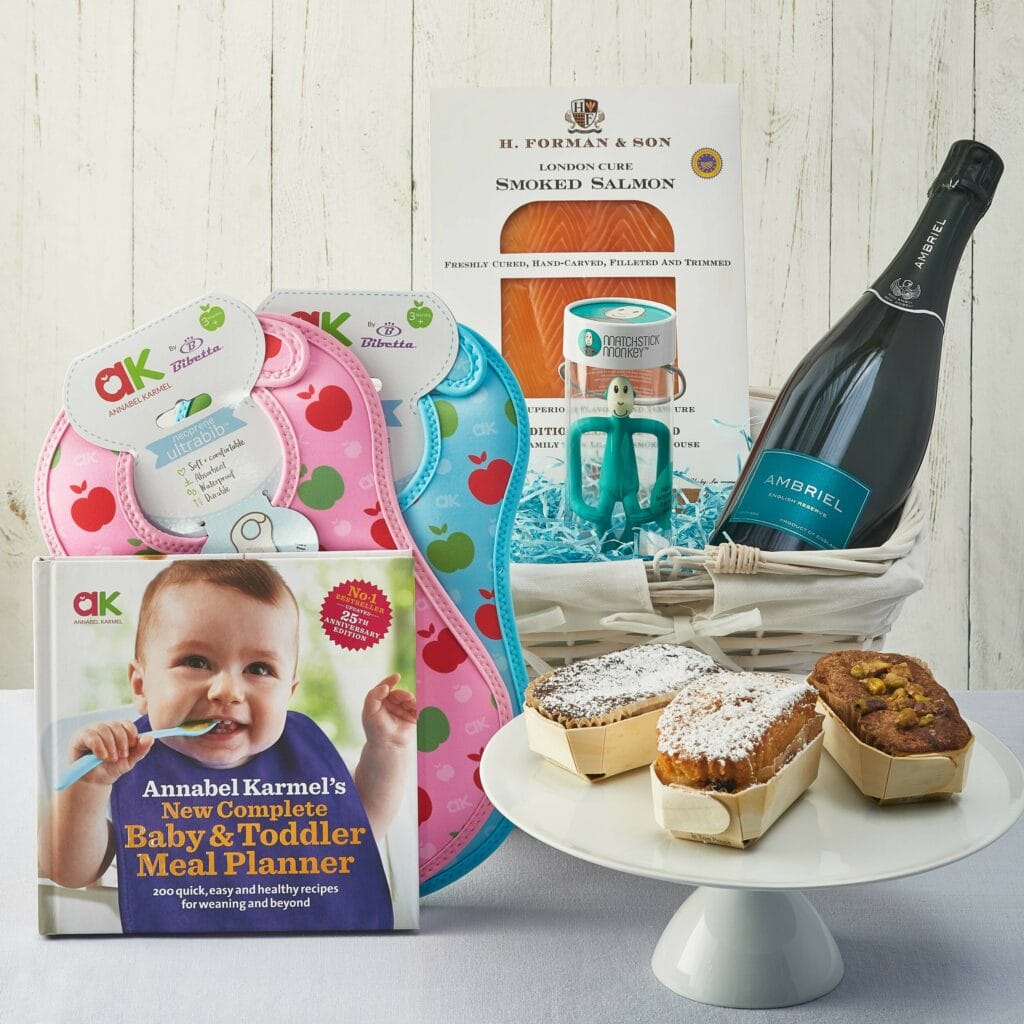 Gifts to "Get Well Soon

"

The inspiration for our Ultimate Care Package emerged during the challenging days of lockdown. Witnessing the hardships faced by many of our valued customers and the overwhelming desire of their loving family members to bring joy, we knew we had to create something special.

This thoughtfully crafted package comprises a selection of our most cherished items, carefully chosen to be frozen or refrigerated, allowing for effortless preparation. Whether you're supporting a post-surgery relative on the road to recovery or celebrating the arrival of a brand new Mum and her bundle of joy, our Ultimate Care Package is designed to provide comfort and convenience during those times when it's needed most.

Featuring our chunky Fish Fingers, Hepburn's Sausages, Forman's Burgers, Buttermilk Chicken and a lot more, this hamper is a wonderful way to say, for whatever reason, "I'm thinking of you".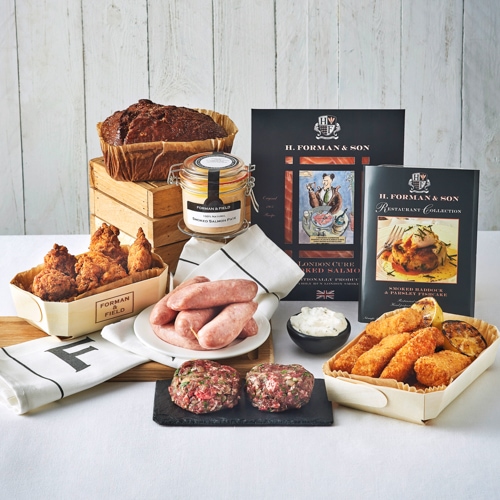 Gifts Under £50
Elevate your gifting game with three irresistible options under £100, each designed to add a budget-friendly touch of luxury to any occasion. Our handcrafted Trio of Mini Cakes, lovingly prepared by our skilled on-site pastry chefs, are a delightful choice. You can choose from a luscious chocolate brownie loaf, a zesty lemon & pistachio cake, or a timeless Victoria sponge. If you're looking to celebrate with some sparkling cheer, our Court Garden Classic Cuveé Brut is an elegant choice; available in a half and full sized bottle it's especially great for socialising! Alternatively, you can indulge in a sophisticated cheese experience with our Cheese Box for Two, featuring a tempting selection of cheddar and blue cheese.
Check out our Gifts Under £100 section for a little more inspo.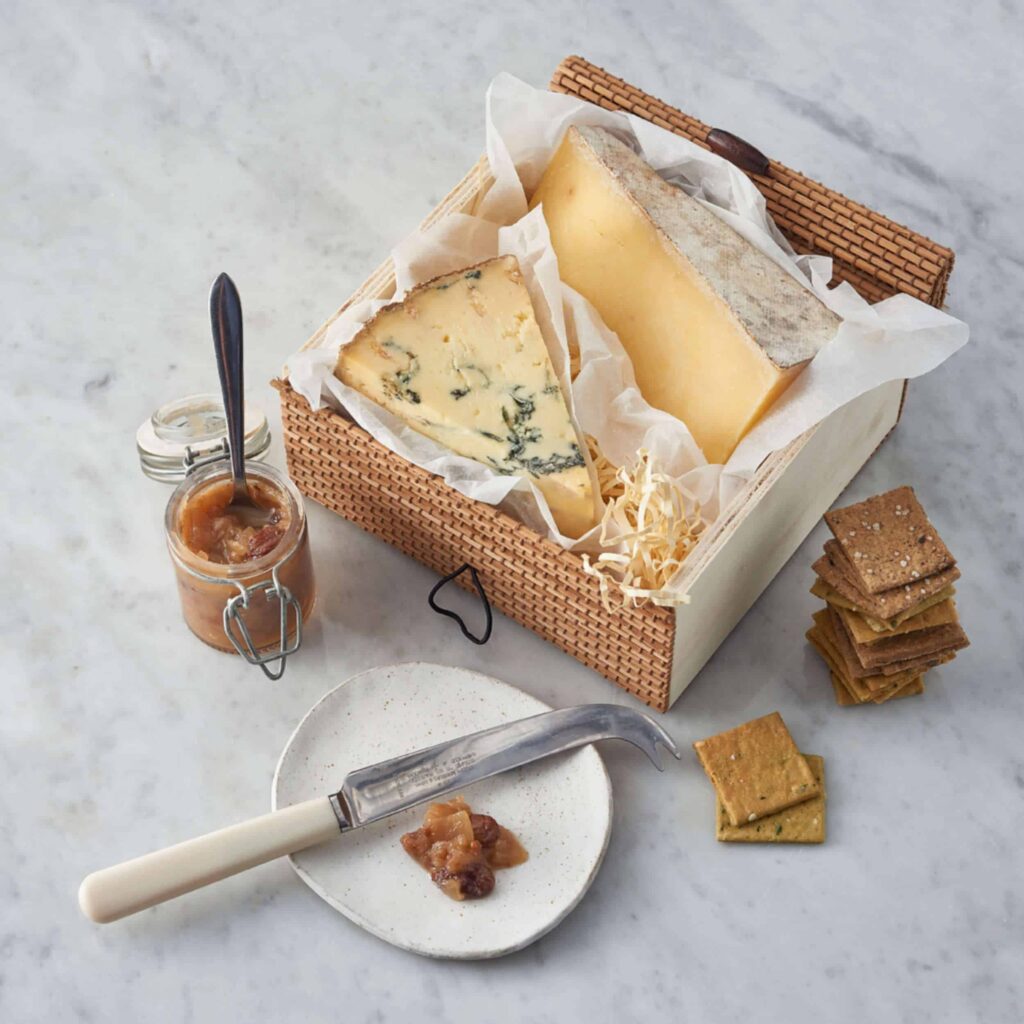 Gift Experiences
So, recent research suggests that giving an experience strengthens relationships more than a physical gift, apparently down to the fact that experience gifts elicit stronger emotional responses while they're being enjoyed. Don' t just take our word for it, this was the work of Cindy Chan from University of Toronto, and judging on the plethora of guests we've welcomes through our doors over the years and the beautiful feedback we've received afterwards,, we definitely think they're on to something. We offer two great "experience" gifts (aside from copious dinner parties of course), both of which we are sure will create some core memories for you or your recipients to treasure.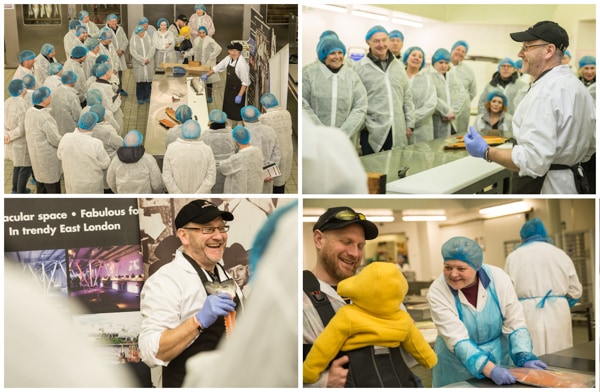 When visitors first catch a glimpse of our awe-inspiring Smokehouse, it's a common comparison to liken it to Willy Wonka's Chocolate Factory. From the vantage point of our viewing section, high above the bustling factory floor, witnessing our skilled artisans diligently perfecting their craft is nothing short of a magical spectacle. Often, photos fail to capture the full essence of this enchanting experience.
Here, seeing, smelling, and tasting is truly believing, and everyone leaves happy. Your journey with us begins with an engaging introduction to Forman & Field, along with a glimpse into our rich heritage, personally presented by none other than our Head Honcho, Lance Forman. Following this, you'll don the appropriate attire and be guided by our expert, salmon-slicing World Record Holder, Darren Matson.
Darren, known for his delightful sense of humour, has a knack for eliciting laughter from even the most serious individuals. We're confident that you'll be thoroughly entertained throughout. Your day concludes with a delectable Smoked Salmon tasting platter, accompanied by a glass of your favourite beverage if you'd like.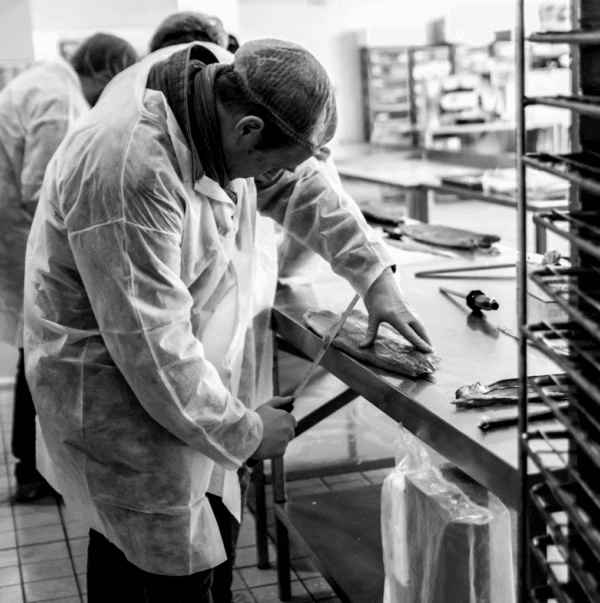 Hands on, heads down, careful with your fingers! Our Masterclass is an incredible package for the hands-on foody that wants to deepen their artisanal knowledge. They'll be taught the absolute fundamentals of preparing their own side of Smoked Salmon, and they'll leave with a heap of their own freshly carved Smoked Salmon, fully prepped by them themselves. From prepping to pin-boning, this wonderful gift creates a fantastic new party trick for Christmas and beyond.
So there we have it, a little something for everyone, with a whole lot more to choose from too. If you have any queries or suggestions, just give us a call, we love to hear from you!