We love any excuse to indulge in dessert for breakfast, so you can bet we're already looking forward to Shrove Tuesday, which falls on Tuesday next week. These pancake recipes are a far cry from the standard lemon and sugar, or boring chocolate spread. Our chefs are here to show you how Pancake Day should really be done, with lashings of our homemade Naughty Sauces, and mouth-watering savoury options for those without a sweet tooth.
If you're inspired to make one of these pancake recipes yourself, please do share a photo with us – we'd love to see it! Happy Pancake Day 👨‍🍳
Pancakes with White Chocolate Sauce and Berries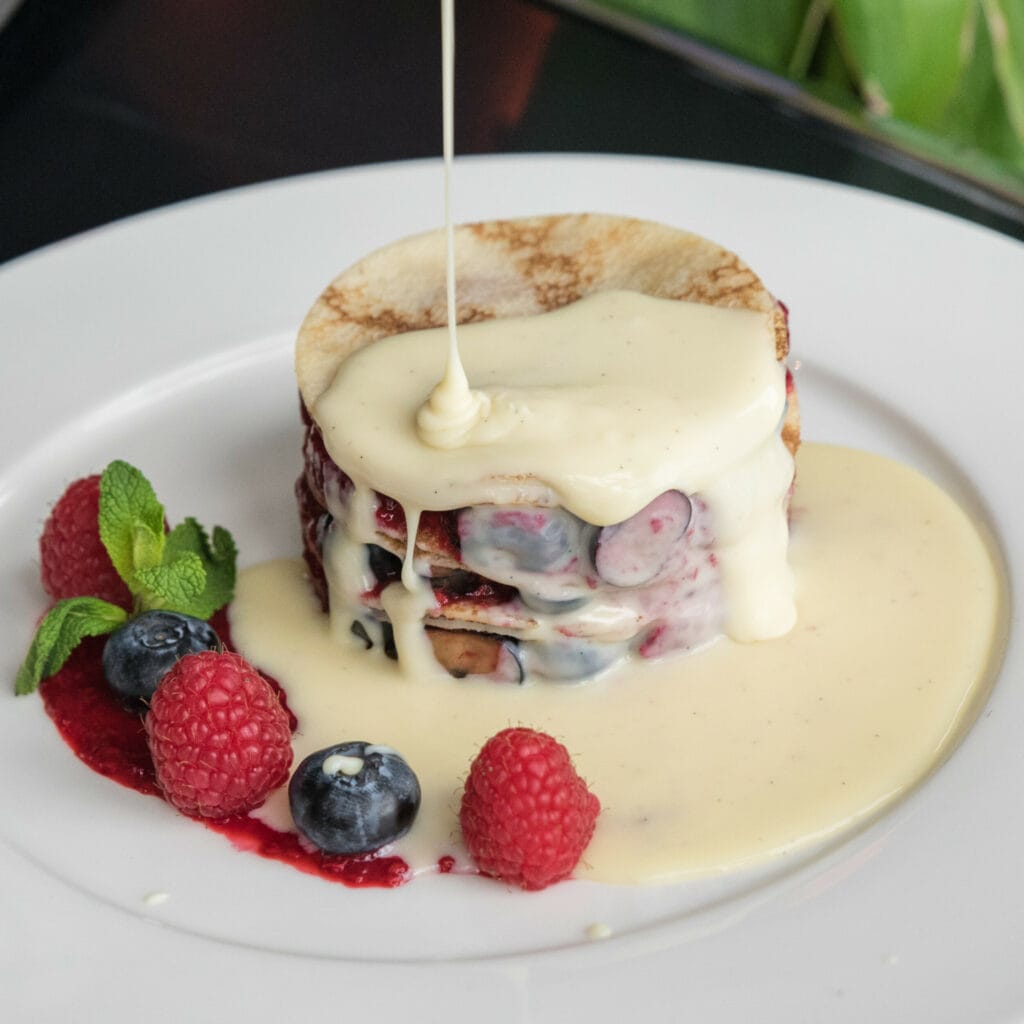 This delightful pancake stack couldn't be easier to prepare. Start by making small American style pancakes; this recipe is very easy, with perfect results every time! Keep the pancakes warm in a low oven until you've used up all of your batter and you're ready to assemble your beautiful pancake tower.
Begin to stack your pancakes on a plate, layering with fresh berries such as strawberries, raspberries and blackberries in between each pancake. To finish, drizzle (generously!) with our homemade White Chocolate Silk sauce. We make it to order with the finest white chocolate and bourbon vanilla, but it's the cheeky kick of Malibu takes it to the next level. Dessert for breakfast? It's Pancake Day, so why not?!
Crepes with Salted Caramel Sauce and Caramelised Banana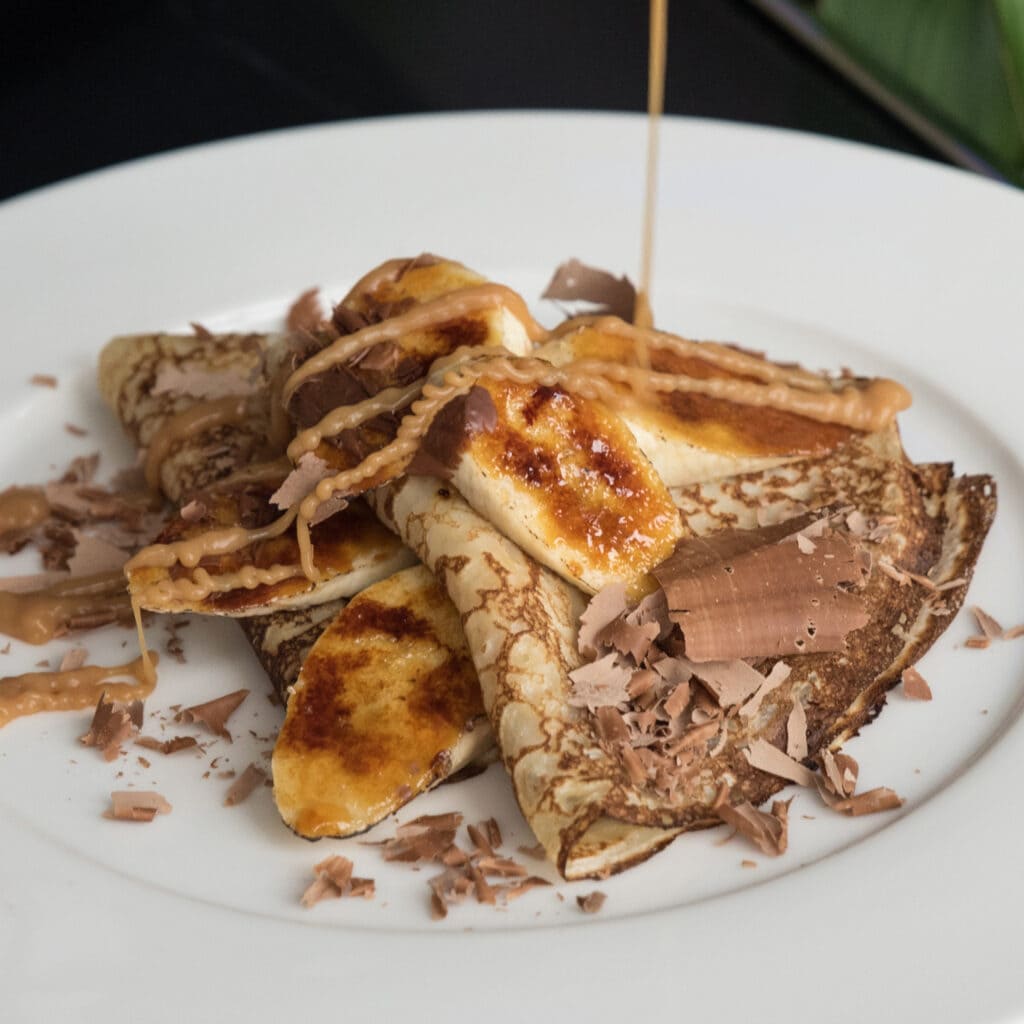 If you've got a sweet tooth, this one's for you! Instead of fluffy American pancakes, this recipe uses crepes, which are essentially large, thin French-style pancakes. You only need one per person (unless you're going for seconds!), and this recipe here comes highly recommended.
Once you've made your crepes, caramelise sliced bananas by coating them in a little sugar and cooking in a pan with some melted butter. It's best to use ripe bananas for this, and don't be tempted to move the bananas around the pan – the idea is to flip them only when the first side is caramelised, but not yet burnt!
Finally, fold your crepe into quarters, top with the caramelised bananas and drizzle all over with our homemade Salted Caramel Sauce. We use smoked salt in this sauce for the perfect balance of salt and sweet, with just a hint of smokiness. Just fabulous.
Smoked Salmon & Cream Cheese Crepe Cake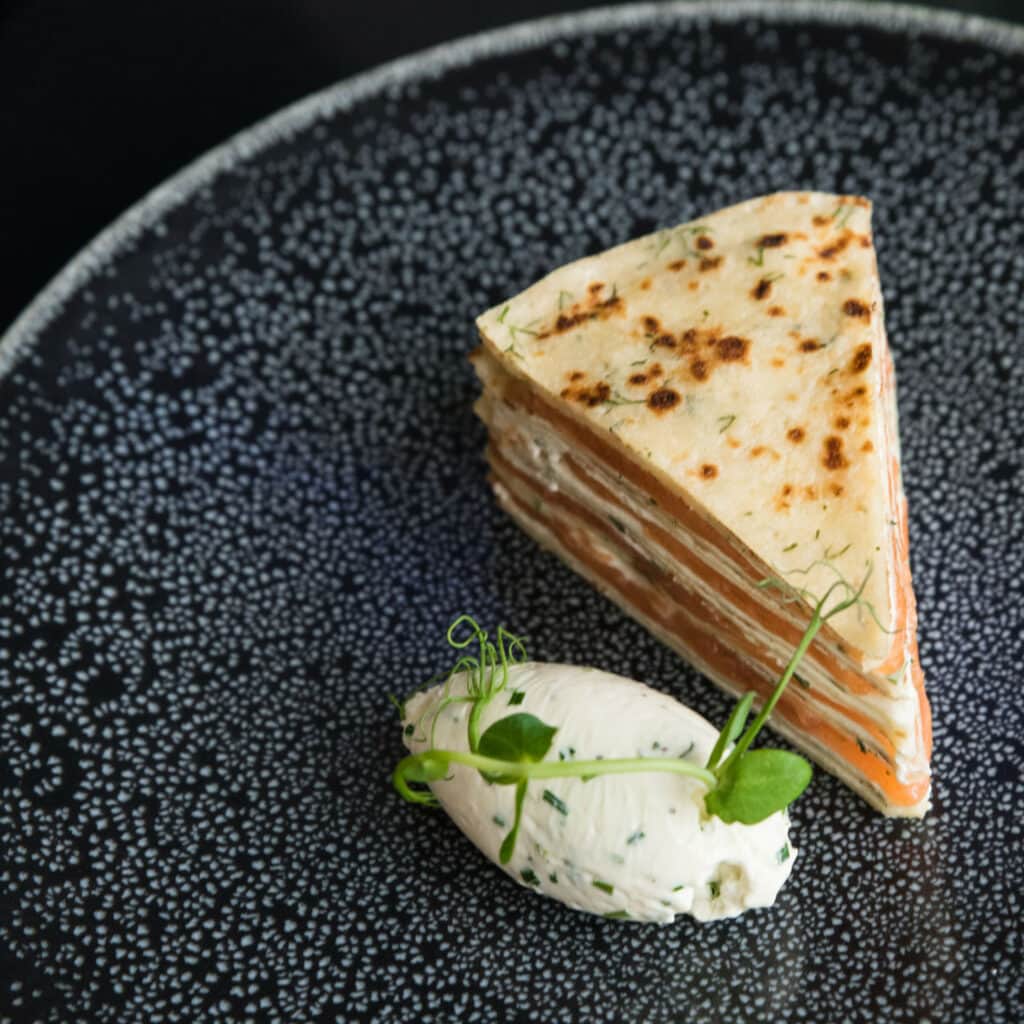 Not a fan of all that sweet stuff? Well then, try this. If you've ever had one of our best-selling bagels, you already know that the combination of smoked salmon and cream cheese is a winner. But have you ever thought to serve it with pancakes? Take your smoked salmon and cream cheese pancakes to the next level with this stunning crepe cake.
For this recipe, you'll need to make crepes that are approx. 20cm wide, and you'll also need a 20cm springform cake tin, our Lemon & Herb Cream Cheese and, of course, our London Cure Smoked Salmon. You can use standard shop bought cream cheese if you like, but the addition of fresh lemon and herbs brings some extra depth to this dish, and the whipped texture makes it much easier to spread during assembly.
Simply make the crepes from the above recipe, then allow them to cool fully. Once cool, create layers inside the cake tin, starting with a crepe, then cream cheese, then smoked salmon, then another crepe, more cream cheese and more smoked salmon, until you have used up all of your crepes. The more you use, the higher (and more striking!) your crepe cake will be. Cover with cling film and leave to set in the fridge for a couple of hours, then slice into portions and serve.
Smoked Salmon Blinis with Capers, Shallots & Crème Fraiche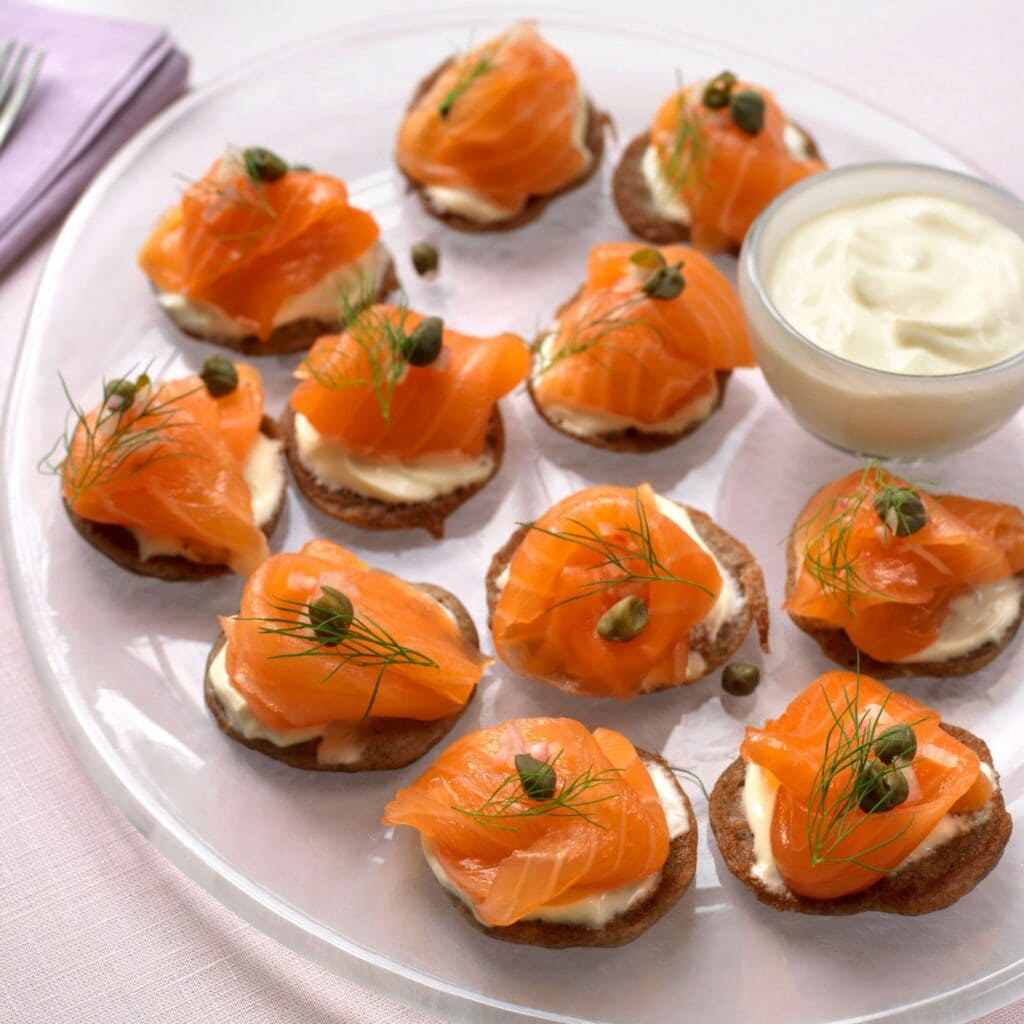 Everyone loves blinis. They're essentially perfect, one-bite morsels, that are packed with flavour – and these ones couldn't be easier to prepare. Blinis themselves can be tricky to make as, unlike classic pancakes, they contain yeast and so the batter needs to rise for a while before frying. So, to make your life easier, our chefs make them just for you on the day of dispatch.
We can even provide the whole Smoked Salmon Blini Kit: freshly made blinis, chopped shallots, crème fraiche, capers, and just the right amount of perfectly portioned smoked salmon slices to top each one. Assembly takes mere minutes, but the result is breath-taking. Beautiful to look at, and oh so delicious too.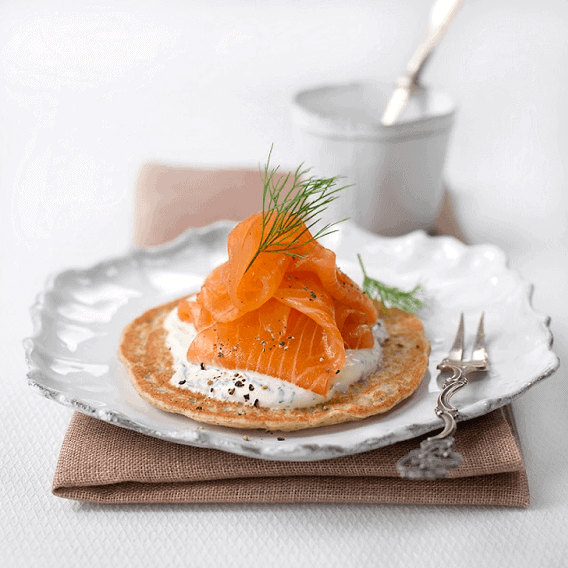 So there you have it! Four delicious pancake recipes that are just perfect for Shrove Tuesday. Will you be going for sweet or savoury? (We'll have both, thank you very much!!)