Coronation Quiche: A Delicious Twist on a Classic Dish
Quiche is a classic French dish that has long been a popular British picnic staple.  It consists of a pastry crust filled with a savoury custard made of eggs and milk, along with various other ingredients such as cheese, vegetables, and meat.  Although quiche is typically associated with breakfast or brunch, it can be enjoyed at any time of the day; it's a great option for a quick and easy meal because it's delicious both hot and cold!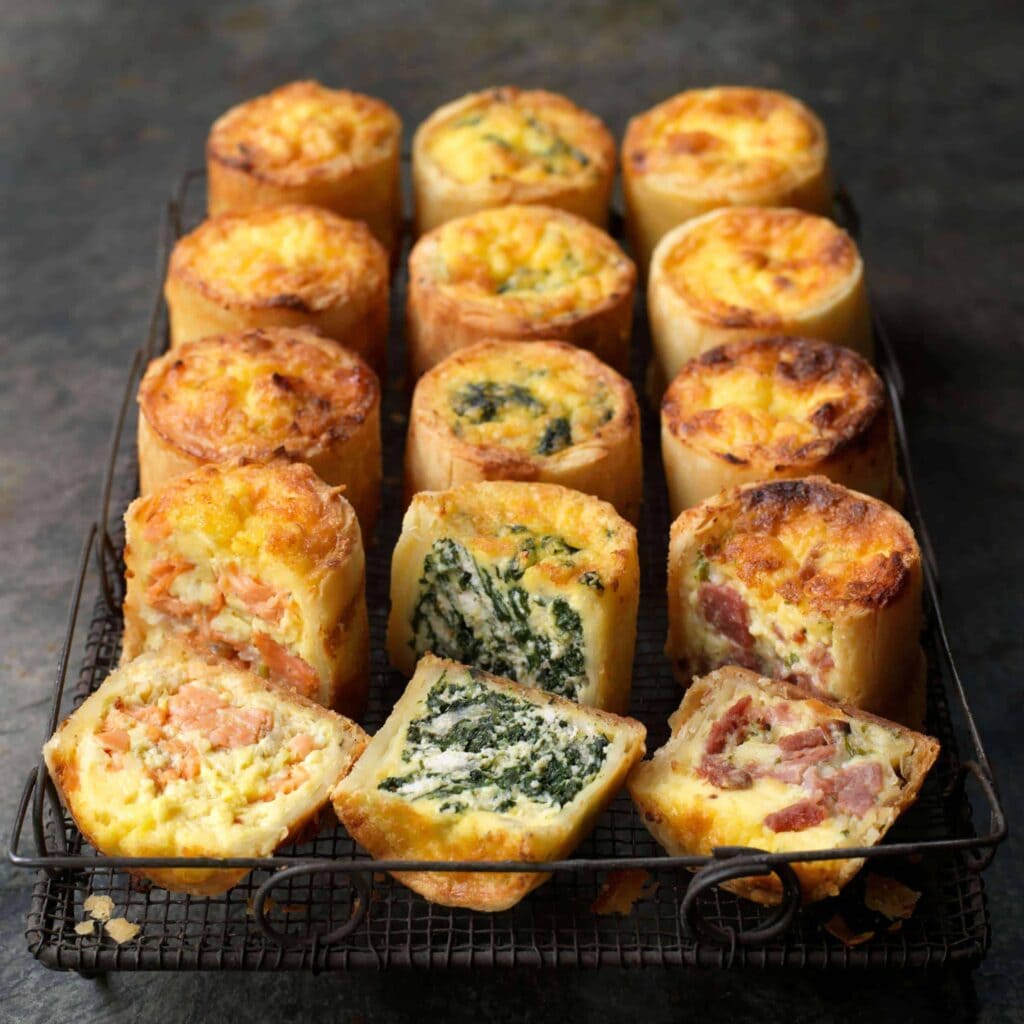 What's the difference between a quiche and a flamiche?
Similar to a quiche, but richer and (in our humble opinion) tastier, is the flamiche, a traditional dish from the Picardy region of France that also consists of a pastry crust filled with a savory custard. Flamiches are made with egg yolks and cream, whereas a quiche is usually made with milk and whole eggs. However, the Royal Recipe for Coronation Quiche does call for cream, which gives it a richer and creamier texture than a regular quiche.
How many eggs should I add to a quiche?
When making a quiche, the number of eggs used can vary depending on the size of the quiche and the desired texture. A standard quiche recipe typically uses four to six eggs, while a larger quiche may require up to eight eggs. It's important to use whole eggs or a combination of whole eggs and egg yolks to create a creamy custard, as using only egg whites can result in a dry and rubbery texture.
The Coronation Quiche
The name Coronation Quiche comes from the fact that it was originally created to celebrate the coronation of Queen Elizabeth II in 1953. The dish was invented by Rosemary Hume, the co-founder of the Cordon Bleu Cookery School in London, and was served at the coronation luncheon. The recipe was later published in Hume's book, "The Constance Spry Cookery Book", which became a classic of British cuisine.
Coronation Quiche is a versatile dish that can be served as a main course or as a side dish. It pairs well with a variety of foods, such as a crisp green salad, roasted vegetables, or a hearty soup. It can also be served as a party appetizer, cut into small wedges for easy serving. Our flamiches are already a handy single portion size, with one flamiche filling the belly just enough to squeeze a little more in!
The main ingredient in Coronation Quiche is spinach, which gives it a vibrant green colour and a fresh flavour. Other ingredients can vary, but common additions include broad beans, onion, cheese, and herbs such as thyme and parsley. The custard is made by whisking together eggs, cream, and seasoning, and pouring the mixture over the spinach and other ingredients in the baked pastry crust.
The Flamiche Royale, our ode to the Coronation Quiche
As an Ode to the wonderful upcoming Coronation our chefs created a new flamiche to add to our already wonderful collection. A combination of poached salmon and wilted spinach, seasoned as always to perfection, our Flamiche Royale is the perfect party starter.
Alternatively our flamiches come in 3 other flavours: Spinach & Riccota, Smoked Salmon & Leek, and Classic Lorraine. Hand made with buttery shortcrust pastry and a rich custard made with cream, egg yolks, and seasoning, they're a decadent and flavourful treat, even if we do say so ourselves!
In conclusion, Coronation Quiche is a delicious twist on a classic dish that is perfect for any occasion. Whether you're serving it as a main course or as a side dish, hot or cold, it's sure to be a heathy hit with everyone who tries it. So why not give it a try and see for yourself why this dish has become a British culinary classic?