Here at Forman & Field, we really do know a thing or two about smoked salmon. Not only is it utterly delicious and wonderfully versatile, but it can even be used in a variety of different dishes and cuisines. It's also packed with healthy omega-3s and is an excellent source of protein. The obvious way to serve our delicious smoked salmon is plated elegantly for a gourmet dinner party starter, or with scrambled eggs for an easy weekend brunch. However, there is so much more that you can do with this fantastic ingredient! Once you've ordered some quality packs of smoked salmon for delivery, why not have a go at one of our 3 favourite ways to use smoked salmon at home?
Homemade Buckwheat Blini with Smoked Salmon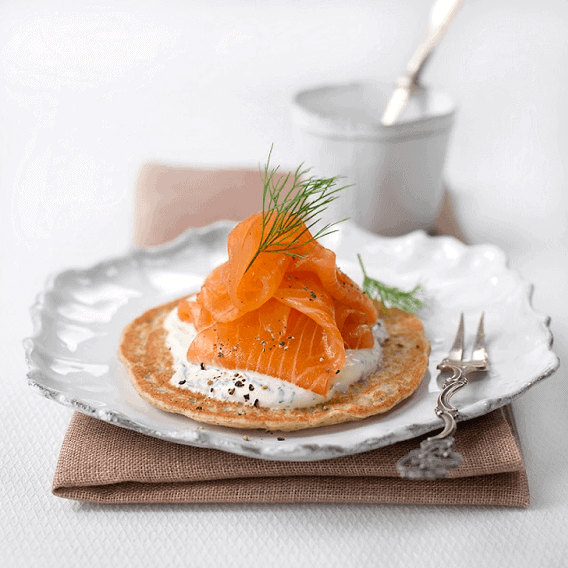 Russian-style buckwheat blinis are a classic dinner party canapé and, if you have the time to spare, they are so easy to make at home. For an exciting dinner party starter, try making your own large blinis so that each guest gets to enjoy one beautiful plate.
Ingredients (makes 4 large blinis):
60g buckwheat flour
85g cup all-purpose flour
1/2 teaspoon salt
1 teaspoon yeast, instant or rapid-rise
230ml milk, warm
30g unsalted butter, melted
1 large egg, whites and yolk separated; room temperature
STEP 1: Mix together the dry ingredients in a large bowl. Make a well in the centre and pour in the milk, then whisk until smooth. Cover the batter and let rise until doubled in size (approx. 1 hour).
STEP 2: When doubled, stir in the cooled melted butter and egg yolk. In a separate bowl, beat egg whites until stiff. Fold whites into the batter, then let rest for 20 minutes.
STEP 3: Place a large frying pan over a medium heat, then brush lightly with melted butter. Pour in some of the batter to make a 10cm blini and cook until you start to see bubbles on the top; about 1-2 minutes. Flip the blini over and cook for another minute or 2 until golden on the bottom. Keep warm covered with foil in a low oven.
STEP 4: Mix the crème fraiche, dill, shallot and lemon zest in a bowl. Season to taste with salt and pepper.
STEP 5: To serve, lay a blini in the middle of a small plate. Top with a generous spoonful of the crème fraiche mixture, followed by 50g of smoked salmon. Garnish with a sprig of dill and freshly cracked black pepper and serve immediately.
Smoked Salmon Linguine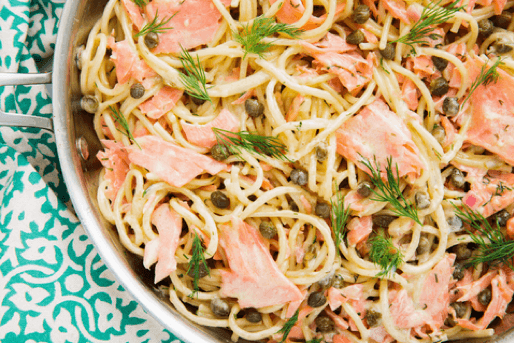 Enjoy this delicious smoked salmon pasta dish with a cold glass of English white wine. Ready in under 20 minutes, the classic flavours of lemon, capers and dill compliment the smoked salmon beautifully and also cut through the richness of the creamy sauce.
Ingredients (serves 4):
400g pasta (linguine, tagliatelle or spaghetti work well)
1 tbsp olive oil
2 shallots, finely chopped
2 cloves garlic, crushed
60ml white wine
100g cream cheese
Zest and juice of ½ a lemon
200g Forman's Smoked Salmon, cut into small strips
2 tbsp capers, drained
2 tbsp fresh dill, finely chopped
STEP 1: Bring a large pot of salted water to the boil, then add your pasta. Cook according to the packet instructions – for 1 minute less if you like it 'al dente'. When it's ready, reserve half a cup of the cooking water then drain.
STEP 2: Meanwhile, make the sauce. Heat the oil in a large pan over a medium heat, then add the shallots and cook for approx. 3 minutes until soft, then add the garlic 1 minute. Add the wine and cook for a few minutes until almost totally reduced, then, whilst stirring, add the cream cheese and lemon juice.
STEP 3: Add the smoked salmon, lemon zest, capers and dill and cook until the salmon is warmed through and has turned a lovely pale colour. Check for seasoning and add salt and pepper, to taste.
STEP 4: Add the drained pasta into the sauce and toss together, so that the pasta is evenly coated. If the sauce is too thick, add a little pasta water until you reach your desired consistency.
Tian of Smoked Salmon with Orange Confit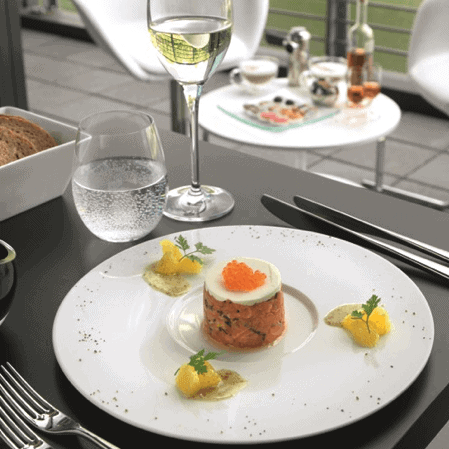 Good quality smoked salmon is essential for this showstopping dish, in which smoked salmon is the star of the show. It's important to use the freshest salmon you can find to make the delicious cured salmon element, and Forman's Fresh Scottish Salmon is just the ticket.
Ingredients:
200g Forman's Smoked Salmon
225g Forman's fresh Scottish salmon
50g sugar
50g sea salt
Olive oil
1 shallot, finely chopped
2 unwaxed oranges, zested, then pith removed and cut into segments
2 tsp brown sugar
6-7 chives, finely chopped
1 unwaxed lemon
Mascarpone
Keta caviar
Salt and pepper, to taste
STEP 1: To make the cured salmon, place the fresh salmon in a dish and cover with a mix of 50g sugar and 50g sea salt. Refrigerate for at least 5 hours; preferably overnight.
STEP 2: To make the orange confit, sweat the chopped shallot in some olive oil until soft, then add the pithless segments of two oranges, the brown sugar and 1 tbsp water. Cook over medium heat for 15-20 minutes until you achieve a jam-like consistency. Allow to cool.
STEP 3: To prepare the tartare, roughly chop the cured and smoked salmon and mix with the chopped chives and a splash of olive oil. Add the zest of one lemon and one orange and a little juice of each, then season with salt and pepper to taste.
STEP 4: To assemble the tian, half fill a metal ring with the salmon mixture and make a slight dip in the centre. Please a teaspoon of the orange confit in the well and top with the rest of the salmon mix to approx. 5mm below the top of the ring. Spread the mascarpone on top and decorate with a spoonful of keta, then carefully remove the ring and serve.
Whether you're looking for new dishes to serve to your family during the week, or you're searching for recipes to host an impressive dinner party, smoked salmon is always a crowd-pleaser. For authentic London Cure Smoked Salmon to serve in your cooking, make sure you check out our full range of finest quality smoked salmon products.