Buy Fresh Smoked Salmon Online: A Guide to Quality and Convenience
Whether you're short on time or you just don't feel like leaving the house, online shopping can be far more convenient than dragging yourself to the shops. With just a few savvy clicks, virtually anything from clothes to cleaning products can be ordered in seconds and delivered straight to your door.
But what about perishable items, such as fresh smoked salmon – can this be ordered online too? The answer is: absolutely! In fact, not only is shopping online for smoked salmon quicker and easier than heading to your local supermarket, but it can also result in a product that is fresher, higher quality and, above all, tastier too.
Today's article will tell you all about how to find the best smoked salmon online. With a little research and the right knowledge, you will learn that smoked salmon is most definitely safe to buy online, as long as you follow these simple steps…
Step 1: Finding a Reliable Online Retailer
The first step to buying fresh smoked salmon online is, of course, to find a reputable online retailer. Look for retailers that specialise in fish and seafood, as they will understand the importance of sending the freshest stock available and keeping the product chilled in transit.
Bonus points for retailers that smoke and slice the salmon to order, rather than producing a set amount at a time and keeping it in a storeroom until the orders come in. Unlike fine wines, smoked salmon does not get better with age, and every day that it is in storage, the quality will start to go down.
If you're not sure whether a retailer produces their smoked salmon to order, ask them these questions. Are they only smoking fish on certain days of the week, or are they doing it every day? Do they receive daily deliveries of fresh salmon, or do they only get it once or twice a week? If the producer is receiving and smoking salmon daily, the chances are the stock is rotating so quickly that nothing is sitting on the shelves. On the other hand, if they only smoke fish on a Monday, but sell it every day of the week, the fish sold at the end of the week will be noticeably less fresh than the fish sold at the beginning. Simple!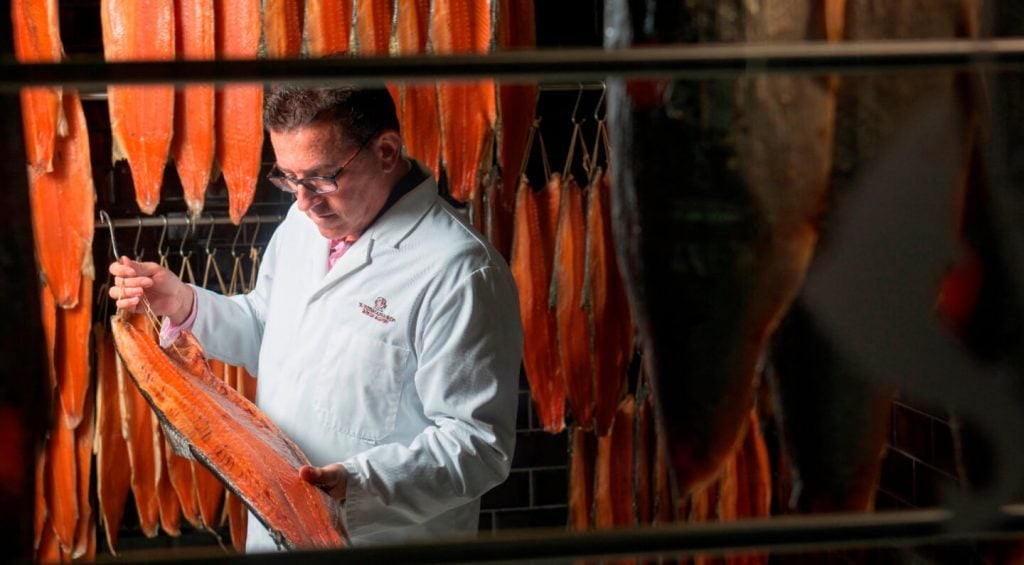 Step 2: Understanding the Quality of the Smoked Salmon
There are many factors that affect the quality of smoked salmon, and these should not be overlooked when shopping online.
The first point to consider is, where did the fresh salmon come from? If your producer is based in the UK, then they should ideally be smoking Scottish salmon. This is not because Scottish salmon is better than its Norwegian or Irish counterparts. Biologically, there is little difference between them. The real reason all comes down to freshness. Scottish salmon can be in a London smokehouse, where London Cure Smoked Salmon is produced, in under 48 hours, whereas Norwegian salmon can take five days to get there. As the fish loses its freshness in transit, its quality will suffer when smoked, and it can leave an unpleasant, sour taste. Ideally, producers should begin curing the salmon within two days of it coming out of water, which is just not feasible if it has to travel so long to get to the factory. The solution: if your producer is in the UK, go for Scottish, if they're in Norway, go for Norwegian, and so on!
It's worth noting that "traditional Scottish smoked salmon" doesn't always mean that the salmon originated in Scotland. Very often, producers will buy fish from Norway, as it's significantly cheaper, but smoke it in Scotland, so that they can call it "Scottish". Do your research before purchasing to ensure that you don't fall for this trap!
Another thing to look out for is the ingredients. Smoked salmon should only contain two ingredients: fresh salmon and rock salt. Some retailers may also list the pure oak smoke as an ingredient, which tells you that real smoke is used, rather than artificial flavouring. However, if sugar is listed, see this as a red flag. Sugar is used to hide the unpleasant taste of poor quality smoked salmon, and should never be used in the smoking or curing process. Any smoked salmon that has sugar in the ingredients should be avoided. (Note: for gravadlax, where the salmon is cured in a mix of salt and sugar, rather than smoked, you will see sugar listed. That's just part of the process of making gravadlax!)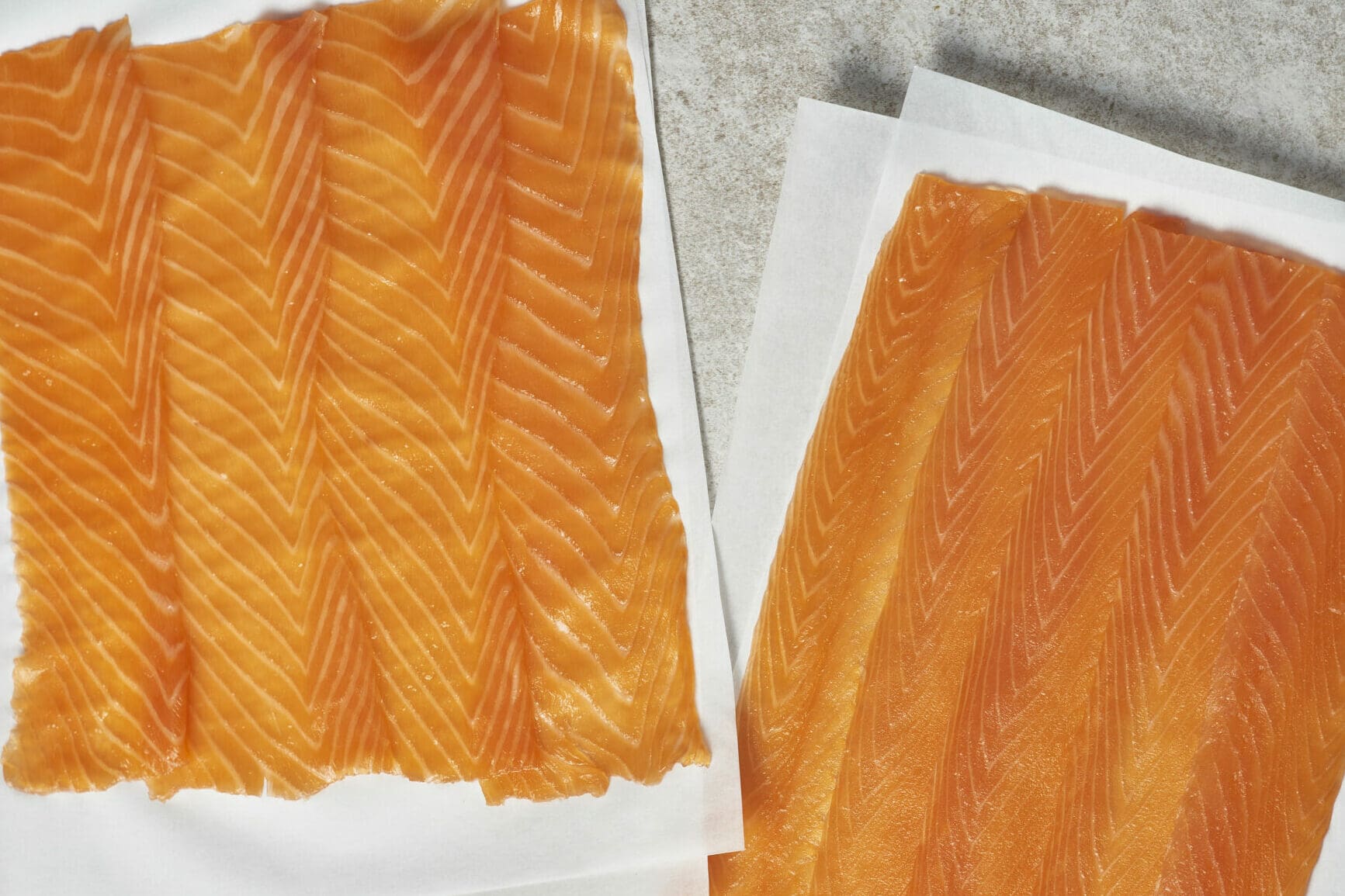 Step 3: Selecting the Right Smoked Salmon
When it comes to selecting the right type of smoked salmon for you, this really comes down to personal preference. Most retailers will only offer one type, but some, such as Forman & Field, will give you the option of lean (dry) or fatty (oily) smoked salmon. If you prefer your smoked salmon with a slightly saltier bite to it, then go for lean. If, however, you prefer your smoked salmon to melt in the mouth with a milder taste, try fatty. Both come from the exact same sides of smoked salmon, and are equal in terms of quality, but lean is taken from the top of the fillet (hence the more noticeable salt and hint of smoke flavour), whereas fatty smoked salmon is the slices closest to the skin.
Some retailers will add all sorts of exotic flavour profiles to their smoked salmon. A quick online search revealed flavours ranging from lemon and dill to pink peppercorn and honey glazed smoked salmon. For lovers of the classic G&T cocktail, Forman's Gin & Tonic Smoked Salmon is well worth a try. It's essentially their classic, finest quality London Cure Smoked Salmon with a very slight sozzle, thanks to an infusion of lemon zest and juniper berries. Wonderful on blinis with a touch of sour cream for a beautiful, celebratory canape.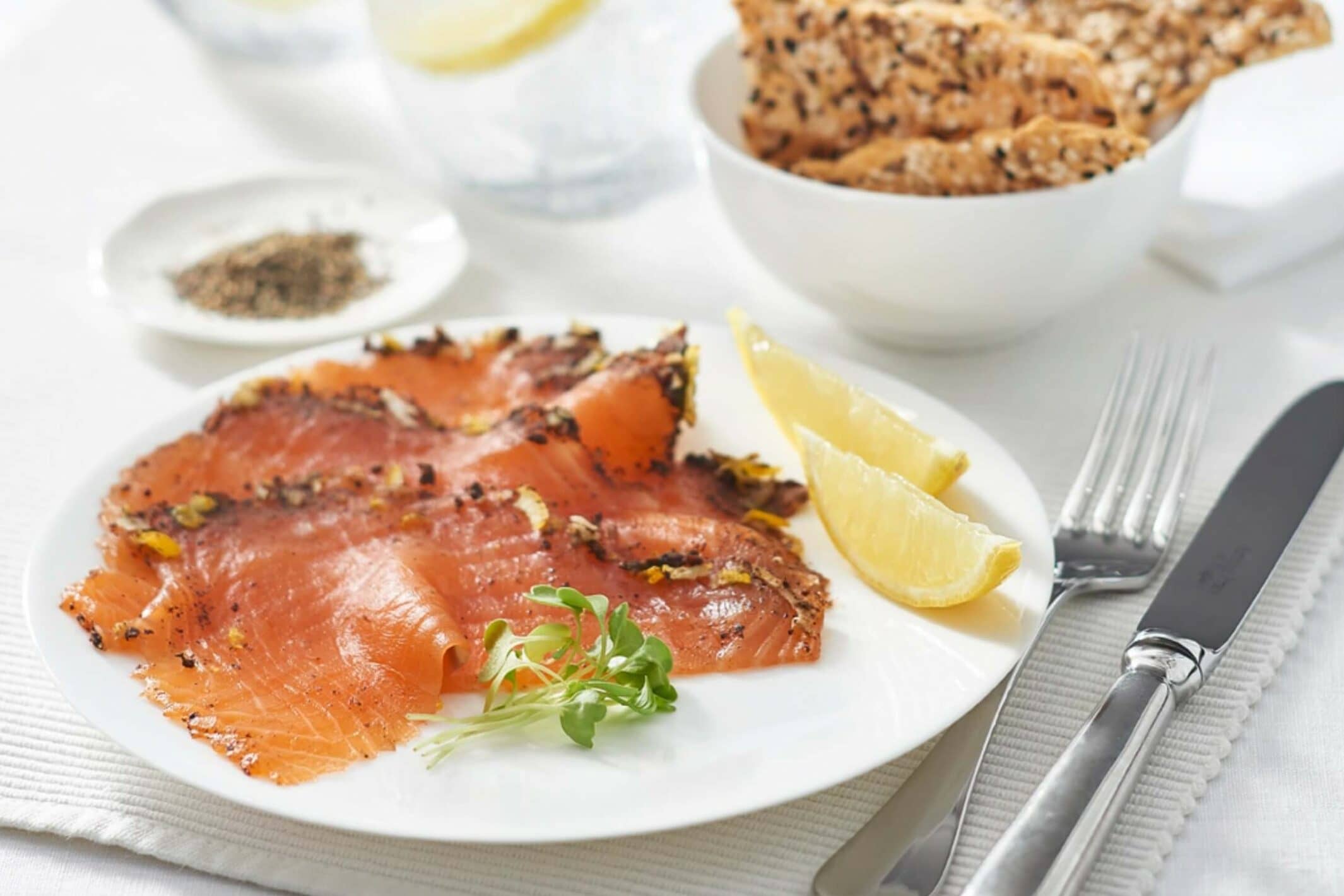 Step 4: Choosing the Right Packaging and Shipping Options
As with all perishable items, it's essential that they are kept cool during transit. Some retailers may offer delivery in refrigerated vehicles, but this is usually only for local deliveries that the retailer delivers themselves, or for larger supermarkets that have huge fleets of delivery vans across the country. But, as long as the smoked salmon is packaged properly, a refrigerated delivery van is not really necessary.
Check that your retailer uses insulated packaging, with ice packs to keep the items inside cool. With proper insulation and plenty of ice, a package can easily stay cool for up to 72 hours. Do bear in mind that, as long as it has been properly cured and smoked and vacuum-sealed, smoked salmon can survive outside the fridge for much longer than fresh fish. It's effectively been preserved in three different ways, so you don't need to worry too much about delivery times!
That being said, you should always go for express delivery if possible, which should be an overnight, next day service. This means that the package is collected from the producer in the evening, passed through transit during the night, and delivered to you the next day. If you live in a more remote area, this might be a two day service, but your smoked salmon should still be perfect when it arrives at your home, as long as the retailer has taken all of the necessary steps.
Some online stores may offer free shipping if you meet the minimum spend, but do be aware that, for smaller, independent retailers that use external shipping companies, this is not always possible. Overnight delivery is a complicated process, and, as a result, it doesn't come cheap. To make your delivery fee more worthwhile, why not order a variety of products that you can freeze and save for a later date? You never know when that extra pack of smoked salmon at the back of the freezer might come in handy!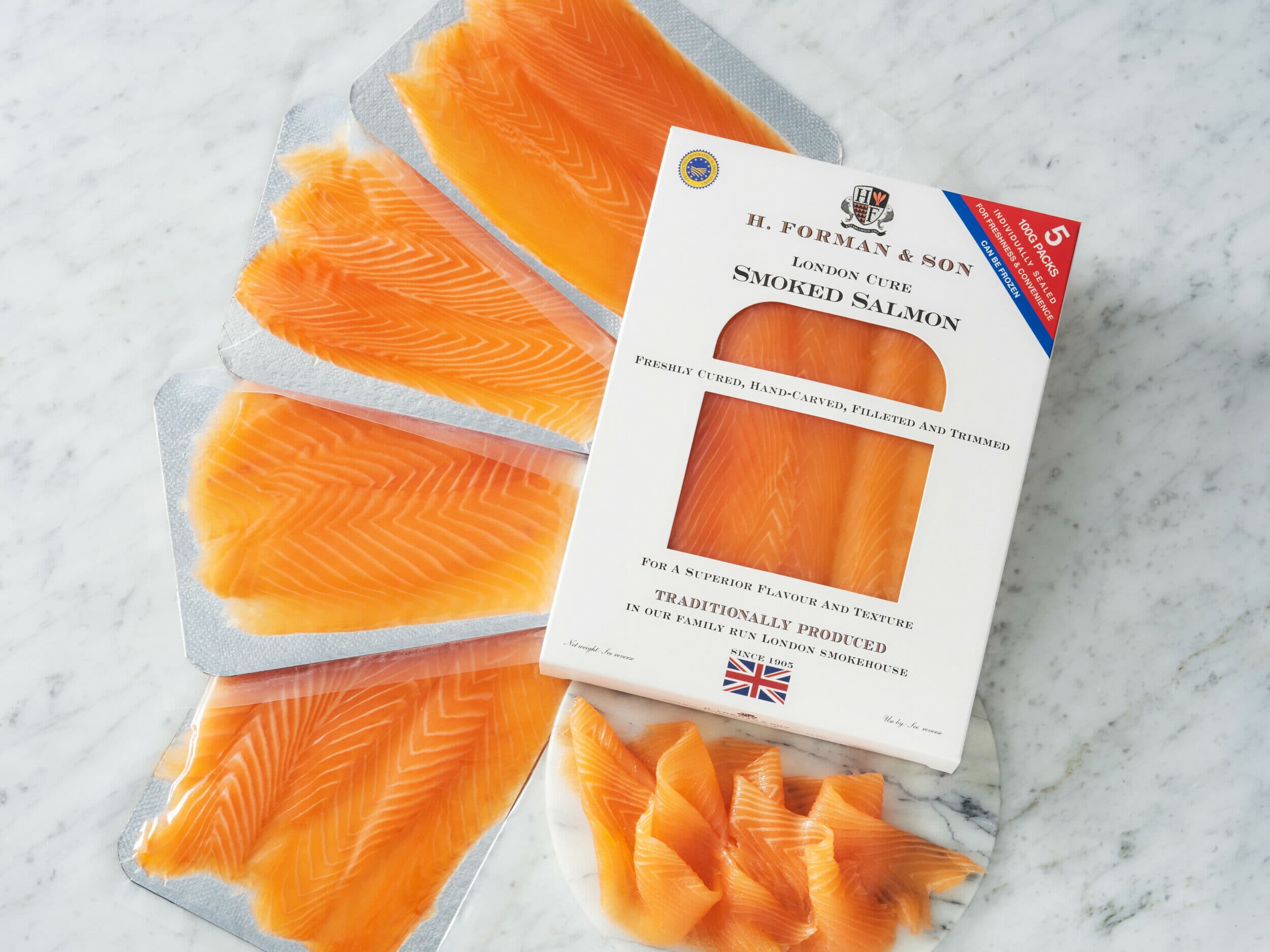 Step 5: Placing Your Order
Placing your smoked salmon order online couldn't be easier. Simply add the products that you wish to order to your virtual basket, then proceed to checkout and follow the instructions.
You'll need to enter your delivery address and billing details. Some retailers will also allow you to select a preferred delivery date, whilst others will just ship it to you on the next available date. Make sure you're aware of when to expect the order before clicking 'pay' – you don't want it showing up a week after your dinner party!
Some companies, including Forman & Field, will also allow customers to place orders over the phone. This is a great way to get personalised recommendations from experts that really understand the product, and also means that you don't need to enter your card details online, if this is something you'd rather avoid.
Conclusion
Hopefully, by now, you're ready to find a reputable and reliable online retailer and order smoked salmon online! As you can see, ordering smoked salmon online is a quick and efficient way to enjoy the freshest and highest quality smoked salmon at home. Just make sure you follow our advice and ask retailers the right questions before placing your order, and you'll be enjoying delicious smoked salmon in no time!
FAQs
Is it safe to buy smoked salmon online?
Absolutely! As long as the retailer takes care to package the smoked salmon appropriately, your smoked salmon will be perfectly safe to eat once it's been delivered.
How can I be sure that the smoked salmon will arrive fresh?
Make sure you choose express delivery, or that your retailer uses an overnight delivery service. Also, find out if the retailer produces their smoked salmon to order – if they do, then your smoked salmon will almost certainly arrive fresh.
What are my options if I receive damaged or expired smoked salmon?
Get in touch with the retailer right away to explain the issues. Make a note of the batch number and take photos, if appropriate, to send them. Any reputable retailer will make an effort to rectify the situation as swiftly as possible.
What are the best websites to buy fresh smoked salmon online?
www.formanandfield.com delivers to homes across the UK on an overnight delivery service. They produce all of their smoked salmon to order, as well as a whole range of mouth-watering chef-made products to fill up your fridge with.
What is the typical turnaround time for receiving my order of fresh smoked salmon?
Smoked salmon takes time to produce. The curing process takes up to 24 hours, whilst the smoking takes another 24 hours. Add to this the 24 hours for delivery, and you're looking at around a three day turnaround from placing your order to tucking into a fresh smoked salmon bagel at home.
buying salmon online
online shopping
smoked salmon