Burns Night is a celebration of the birth of Scotland's national bard, Robert Burns, who was born on 25th January 1759. This year, Burns Night falls on a Tuesday (25th January 2022), and many will be looking forward to in-person celebrations after last year were cancelled due to lockdown. Scots all over the world will mark the occasion with a traditional feast, music and recitals of some of Burns' best-loved works. But what do you need for a perfect Burns Night supper?
Who was Robert Burns?
Known for his romantic poems, folk songs and satirical ballads, the works of Burns are still loved today. Some of Robert Burns' most famous works include Auld Lang Syne, Tam o' Shanter and The Selkirk Grace, and his rich Scottish vocabulary is instantly recognisable. After his death in 1796, the bard's closest friends gathered for a memorial supper in his honour. It was such a success that the memorial was repeated every year on Burns' birthday. It is now widely regarded as Scotland's second national day – second only to St. Andrew's Day.
What do you eat at a Burns Supper?
The most traditional food is, of course, the haggis. Guests are supposed to stand as the haggis is ceremoniously brought to the table by the chef, lead by the bagpiper. The host should then read Burns' poem, Address to a Haggis, at which point the haggis will be majestically sliced open. After a toast of fine Scotch whisky, it's time to tuck in.
Are there any alternatives to haggis?
There's no question that haggis is an acquired taste. Haggis is made from sheep's offal (heart, lungs and liver), which are encased in its stomach with a mixture of suet and oats. Not everyone likes haggis, and it can also be difficult to find – particularly if you don't live in Scotland.
A great way to introduce your guests to this unique food is by using it as a meal ingredient. Our chefs have created these special Haggis, Black Pudding and Chicken Sausages especially for Burns Night. They're sublimely juicy and just wonderful served with our homemade Black Velvet Sauce. They're also much easier to cook than a whole haggis, which can take up to 3 hours to boil. You just need to fry them in a little butter until cooked through and you're in business.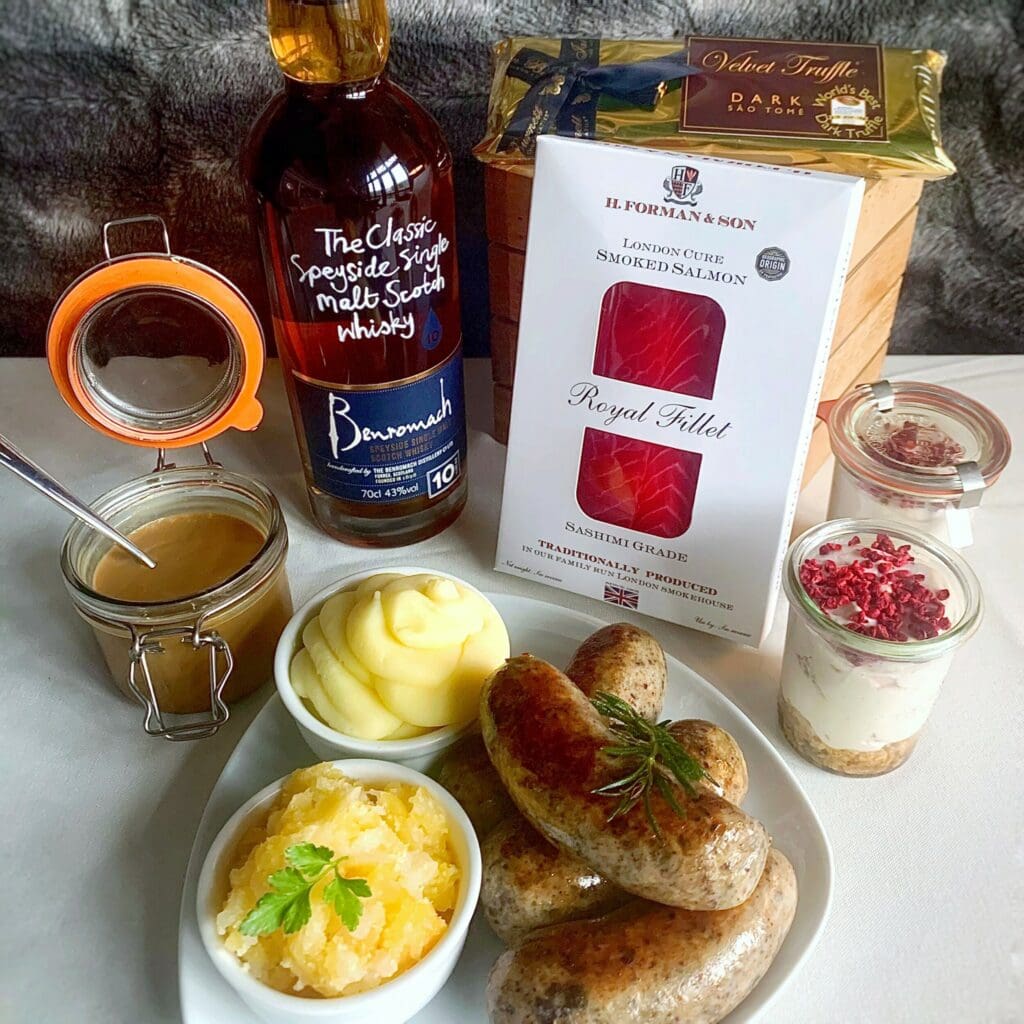 What accompaniments do you serve at Burns Supper?
The most traditional side dish at a Burns Supper is, of course, Neeps and Tatties (parsnips and potatoes), boiled and mashed then served alongside the haggis. For dessert, try Cranachan; a delicious Scottish dessert made with oats, raspberries, cream and whisky. And talking of whisky, no Burns Supper is complete without a bottle of Scotland's finest. Single malts are the preferred choice for many, but the real whisky connoisseurs know that blends have a certain complexity and balance when done properly. James Eadie's Trademark X is one such blend, with exceptional character and depth that allows it to compete with any of Scotland's most highly regarded distilleries.
Can you get a Burns Night Supper delivered to your home?
Here at Forman & Field, we believe that creating memories with your family and friends is what life is all about. That's why our chefs have created this fabulous Burns Night Hamper, which features all of your Burns Night essentials in one delicious bundle. Finest Scottish salmon to start, with a main course of Haggis, Black Pudding & Chicken Sausages, with Black Velvet Sauce, Neeps and Tatties, followed by our stunning Cranachan Cheesecake Pots and Highland Chocolatier Truffles for pudding. There's even an option to save 10% on a bottle of Scotch whisky if you purchase it with the Burns Night feast. We'll raise a toast to that!
Our Burns Night hamper makes a fantastic gift for those who may be celebrating from afar and is available from 19-25th January 2022. Sláinte Mhath!