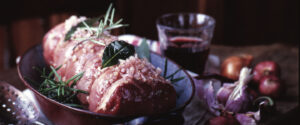 The Butcher
Small-scale British farmers produce world-class meat. Sadly, supermarkets and butchers rarely see it. Because we prepare dishes for reputable culinary establishments we go direct to farms where animal welfare is a priority. Then direct to you.
If you're looking for wild game meat, Forman & Field are the nation's go-to suppliers. Our mouth-watering selection features decadent meals such as our boneless quail with foie gras & pistachio stuffing which is perfect for date night or a family meal.
If you're cooking wild game meat for a few people but looking for something that doesn't require carving, our game roulade with orange & thyme is the perfect choice. Made with layered pheasant and wild duck fillets filled with orange, thyme, and pork stuffing, rolled in locally smoked bacon, this really is a decadent treat! What's more, all of our meals are hand-made and packaged to order, ensuring you receive only the very best in gourmet game meat.